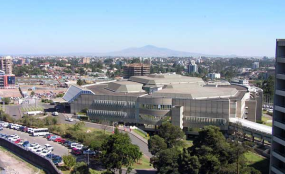 Photo: Filippo Jean /Wikipedia

By Henok Assefa
By all accounts, Ethiopia has had a tough year. The effects of El Nino were deeply felt across the country. Agriculture was impacted. So was the life of millions of Ethiopians earning a living from it.Global mainstream media reported the return of drought to Ethiopia. These negative stories tested the rapidly improving image of the nation. Further, governance issues spilled into the streets and the nation went through a turbulent few months. Normally, these issues should be enough to deter investors from any country.
Nevertheless, the Ethiopian Investment Commission (EIC) announced that more than half a billion dollars in Foreign Direct Investment (FDI) entered the country in the last three months.
Even more interestingly, 3.5 billion dollars worth of foreign direct investment from 124 investors was being processed. So how do we reconcile these two seemingly irreconcilable events?
The answer lies in Ethiopia's emerging global competitiveness in light manufacturing industries, particularly garments and leather products. You don't have to take my word for it. McKinsey Global Institute (MGI) recently noted that Ethiopia's "unit labor costs for the manufacture of polo shirts are 0.14 dollar per unit, less than half the level in China and Vietnam. In the case of leather loafers, its unit labor costs are one-third those in Vietnam and one-fifth those of China.
As a result, the country has become a competitive global exporter of labor-intensive goods. For example, the value of its footwear exports has increased at an annual rate of 38pc from 2004 to 2014, and the value of apparel exports at 22pc a year over that period". MGI further states, "Ethiopia's success has been based not simply on low labor costs, but also on unit labor costs that are competitive when productivity is taken into account." This is a very big deal!
The nation has been furiously implementing a strategy to become the world's most competitive country in light manufacturing industries. As Michael Porter, the renowned Harvard professor puts it, strategy is essentially about choice. It is about deciding to do one thing and not another things, and therefore a trade off. Strategy therefore requires careful thinking, decision, and courage to implement. Ethiopia's insistence on an industrial strategy was not popular from the start. Still Ethiopia implemented courageously.
During the past 20 years, China achieved efficiency in light manufacturing previously unseen in human history. Unable to compete, many countries in Africa, deindustrialized during China's rise. Regardless, Ethiopia still stuck to its strategy and implemented furiously. The result of this single-minded implementation, helped by rising production costs in an increasingly wealthy China, is Ethiopia's emergence as the world's single lowest cost production country for the migrating industries of light manufacturing. This is indeed a big deal.Its impact is much more long term and pervasive than meets the eye. It puts Ethiopia in a powerful position to utilize its young population and drive fast growth for decades to come.
Globally, the textile and garment sector is one of the biggest markets with a reported 3.03 trillion U.S. dollars value in exports alone between the years 2011-2015. World trade in leather - one of the most widely traded commodities - is currently growing and is estimated at over 100 billion U.S dollars a year. In 2014, leather footwear and apparel accounted for about 68pc of that figure, amounting to U.S. 68 billion dollars.These two global markets are powerful engines for job creation and a magnificent opportunity to pull millions of people out of poverty through job creation. Of course, they are both currently dominated by China.
But rising costs in China means that more than 80 million jobs there are set to migrate to other countries. The vastness of China means that no one single country can by itself absorb all this job opportunity. Given Ethiopia's current cost leadership, the nation is a clear candidate to attract many of these jobs. If the Government's admittedly ambitious targets for the next 10 years are to be met, this industry will create up to two million direct jobs.
With jobs come salaries. With salaries comes increased consumption of daily needs.The two million direct jobs even at a very low salary of 100 dollars a month on average mean an annual salary income of 2.4 billion dollars.This doesn't even include the plethora of ways such investment will increase job opportunities.
The so called Fast Moving Consumer Goods (FMCG) industry, supplying everything from food and beverage to cleaning items, is set to grow rapidly on back of this jobs expansion. Another round of FDI is thus attracted to Ethiopia, eyeing a rapidly growing middle class in the 13th largest population of the world. It will remain a magnate for further FDI for years to come.
The major driver of Ethiopia's FDI surge is thus its success in taking the crown of competitiveness from China in light manufacturing. So now what? Do we sit and celebrate this magnificent progress? Absolutely not! There is much more remaining to be done compared to what has been done already if Ethiopia is to achieve prosperity. While the effort in attracting FDI must be kept up, there are a few areas that require similar zeal if Ethiopia is to reap the full benefits of its industrial revolution.
Of course, Ethiopia is especially well suited for verticality. It has the largest livestock population in Africa and eighth largest in the world. Livestock and related activities account for up to a quarter of national earning. And with more than 80pc of Ethiopia's rural population operating in a mixed crop-livestock agricultural model, livestock can play a crucial role in turning Ethiopia into a middle-income country. The likes of Hujian and Georges Shoe Company, some of the largest shoemakers in the world, are opting to make shoes from their base in Ethiopia. These companies will need millions and millions of square meters of hides and skin and processed leather.
In turn, the millions of Ethiopians who earn their living from rearing cattle, growing animal feed, providing services in animal health and reproduction, the whole chain of activities are suddenly linked to a powerful web of forces that link them to magnificent global demand. The many current initiatives in the livestock sector thus must be lead with this end goal in mind. They must be treated with the same national zeal that created global competitiveness of light industry.
While Ethiopia has a number of high profile initiatives to develop its livestock subsector, less could be said for cotton. Ethiopia has more than 3.2 million hectare of land with suitable climate for cotton cultivation. A significant portion of this land is found under smallholder farmers. In Amhara region alone, there are up to one million small farmers who own suitable land for cotton production. Unfortunately, less than 10pc of this land is currently producing cotton. The driving factor for low production is price.
As a global commodity with unstable prices, small farmers see cotton as a risky crop. Recent ill conceived Ethiopian policy of cotton export ban and price control did not help matters. Further, many governments, including the U.S. subsidize their cotton farmers while Ethiopia does not. The net result is that Ethiopia's small farmers mainly produce cotton for the purpose of crop rotation. The time has come for Ethiopia to set minimum prices and offer a guaranteed market for cotton produced in country. Any attempts in improved utilization of better seeds, use of BT Cotton, increased irrigation, and good agronomic practices must first consider better and more stable pricing mechanisms.
Domestic production of cotton will also have far higher positive consequences. Currently, Ethiopia is not globally competitive in the manufacturing of fabrics. A major reason is that most of its factories are operating far below capacity due to a lack of abundant supply of cotton. This makes a focus on cotton even more crucial for Ethiopia to sustain its emerging lead in global competitiveness in the apparel business. Creating an attractive domestic cotton market will lead to further industrial value addition and job creation opportunities up the chain. Investments in ginneries, spinning and textile making are a better ground for apparel making in general. In other words, a focus on smallholder cotton will allow Ethiopia to achieve verticality.
Ireland is one of the great economic success stories of our times. Its approach is loosely similar to that of Ethiopia with its industrial parks development. Ireland is a small country of a few million inhabitants. It correctly inferred that its best positioning in the global economy is as a base to serve the gigantic European economy next door. Given its highly educated workforce, it incentivized and attracted the companies who control the global supply chain in high tech industries.
Ireland's success is now the stuff of legend. The only thing that could cap its stellar rise to the upper echelons of prosperity would be strong large domestic enterprises who would stick with it through thick and thin. While interlinking with the global economy is a source of strength, Ireland also lives in higher risk that changes beyond its control could derail it's economic footing at a moment's notice.
Ethiopia is a large country of almost 100 million people. It is also located strategically within an emerging Africa, next door to the Middle East, and on the sidelines of the busiest shipping lanes in the world. It has much better opportunities to create a domestic private sector the likes of which Korea, Taiwan, and China have created. Much like Ireland, Ethiopia's uptick in garment and leather industries investment is a direct result of its ability to attract firms like PVH, H&M, and VFwith solid positions within the global supply chains of apparel. This brilliant market led strategy can easily be repeated to create opportunities to link thousands of Ethiopian SMEs to global supply chains. The cardboard box maker gets to supply its much needed packaging product to manufacturers in industry parks.
Enough demand created here may mean attractive grounds for an investment in paper mills that utilize Ethiopia's vast eucalyptus and bamboo wealth. Those producing leather, fabric, buttons, clothing hangers, etc. can all find big markets in their backyard. Professional services firms as well as banking receives fantastic stimulus to grow and reap the benefits of a global supply chain. The small investor with a cotton ginnery, who takes his raw material from a small cotton farmer, sees their products sold in the high value markets of Western Europe and America. This is not a fairy tale. It can and must happen in today's Ethiopia.
To gain the full benefits from its breakthrough with FDI, Ethiopia needs to create jobs outside of industrial parks. With about 50pc of citizens under the age of 15, job creation is a matter of urgency. So, the country will need to ensure that FDI is not kept by the walls of the parks. Technical and managerial know how must be ensured to spill over into the rest of its economy. The chain of activity that leads to the final product of our manufacturing industry is to a high degree produced by local SMEs.
But local SMEs face a business environment among the most difficult in the world. Ethiopia is ranked 159 in the World Bank's doing business rankings. Its position in the all-important "starting a business" category is an appalling 179th in the world. It also does poorly in other key metrics such as Getting Credit (170th), and trading across borders (167th).The result is that Ethiopia is creating fewer jobs than it should. It is creating fewer SMEs than it could. Subsequently, large FDI firms coming into the country find it cheaper and faster to import their inputs rather than buy them locally.
This is a great missed opportunity.By contrast, Rwanda worked to improve its doing business rankings from 143rd to 56th in the world.Its immediate priority was to provide gainful employment to millions of people. Its efforts led to about 72,000 new ventures, almost entirely consisting of two- and three-person operations, which in a decade tripled exports and reduced poverty by 25pc.
Peter Drucker, is widely credited for creating management as a formal modern discipline. In the middle of the last century, he lamented that American regulators' mistaken understanding of the role of a business in society was responsible for the difficult environment for business. He debunks outright that the idea of profit maximization as the purpose of a business "is not only wrong but also irrelevant". The business enterprise, as a part of society, serves to solve societal problems and create opportunity.
Far from being a side concept, profits are a validation that the business enterprise is serving the biggest needs in society. People vote with their wallets. Unfortunately, Ethiopian society today resembles that which existed during Drucker's writing about America. Improving the business ecosystem in Ethiopia is thus not simply an exercise of going through small changes in reform. Small changes, while very important, must be based on a modern understanding of business as a problem solver for society, not merely a modality to enrich the few.
Ethiopia must charge a full court press to improve its ecosystem for small businesses. It can and must be done. Ethiopia must ensure that its budding industrial revolution and the corresponding surge in FDI pulls its entire economy into the modern age. President-elect Donald Trump complains that the U.S. is off shoring too many jobs to China and Mexico. Ethiopia will join the list soon.
Henok Assefa Is the Managing Partner At Precise. Precise Is a Leading Economic Development and Investment Advisory Firm Working to Revolutionize the Way Business Is Done in Ethiopia.