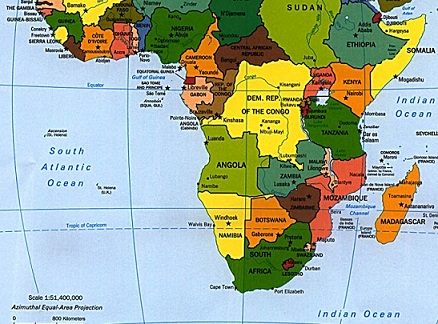 Image from shijiedituw.com

The East Africa, Southern Africa and Indian Ocean Islands trade(abbreviated as ESAf) has a coastline of approximately 21,000 km, facing the Atlantic Ocean and the Indian Ocean, and a part of South Africa and all parts of Namibia have the South Atlantic coastline.

In 2017, the total value of the ESAf economies reached $737 billion, less than one percent of the global economy. Southern Africa is dominant in the region regularly accounting for around 60 percent of the total. East Africa is however growing quickly and has seen its share rise from 34 percent in 2013 to 40 percent in 2017.

22 ports are called at by intercontinental liner services. Five are located along the East African coast, 10 in Southern Africa, with the rest being located on Indian Ocean Islands. The two largest ports continue to be Durban (2,700,000 TEU) in South Africa and Mombasa (1,190,000 TEU) in Kenya. This latter port took second spot from Cape Town in 2011 and broke the million TEU mark in 2014. Combined, Durban and Mombasa handled 48 percent of total throughput in 2017.

There are few private terminal operators in the region, but the construction of the multipurpose facility DP World Berbera is underway. DP World (51 percent), Somaliland (30 percent) and Ethiopia (19 percent) own what could be a new gateway to landlocked Ethiopia.

At the start of 2019, there were 18 different carriers offering container shipping services to and from the ESAf region.

The Far East, Middle East/Indian Subcontinent and Europe/Mediterranean are the main trade areas connecting with ESAf. Over the five-year period to 2017, carryiers have struggled, experiencing declines between 2014 and 2016. Dynamar estimates carryings for the whole of ESAf to have reached over five million TEU in 2017 compared to 4.7 million TEU in 2016. The containerized trade is forecast to reach seven million TEU in 2022 as South Africa recovers from a difficult period.

Figures from 20 ports in the region show that combined port throughput totalled 8.2 million TEU, representing four percent growth since 2013. The shares of containers handled reflect a slow drift away from Southern Africa towards East Africa and the Indian Ocean Islands.