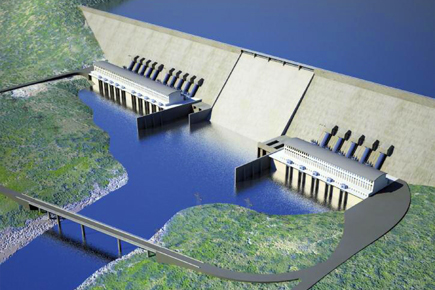 Photo: Wikipedia
By Bilal Derso
Ethiopians and foreign nationals of Ethiopian origin residing in Beijing, China, have pledged to purchase bonds worth 14,000 USD to finance the construction of the Grand Ethiopian Renaissance Dam (GERD).
The Grand Ethiopian Renaissance Dam (GERD), formerly known as the Millennium Dam and sometimes referred to as Hidase Dam, is a gravity dam on the Blue Nile River in Ethiopia currently under construction. It is in the Benishangul-Gumuz Region of Ethiopia, about 15 km (9 mi) east of the border with Sudan. At 6,000 MW, the dam will be the largest hydroelectric power plant in Africa when completed, as well as the 11th largest in the world sharing the spot with the Krasnoyarsk Dam. The storage reservoir has a surface area of 1561 km² at level of 640 m, i.e. 146 m behind the dam which holds a large volume of water equal to 79 billion m³.

In a press release sent to The Ethiopian Herald, Office of the Spokesperson of the Ministry of Foreign Affairs said the pledge was made at an event organized to mark the 11th Nations, Nationalities and Peoples Day on the premises of Ethiopian Embassy.
Ambassador Extraordinary and Plenipotentiary to China Seyoum Mesfin said all Ethiopians are determined to support the construction of the dam thereby to ensuring the country's renaissance and economic development.
Meanwhile, officials of the China Defense University awarded Ambassador Seyom for the role he played in strengthening China- Africa cooperation, it was learnt.