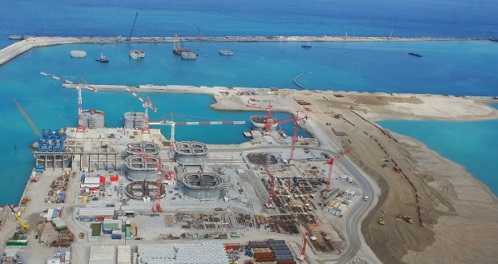 Image from African Business Magazine

Although Morocco's trade links with Europe have been around for decades, Moroccan companies have limited ability to compete with European companies. However, the fast-growing West African economies offer enormous opportunities for Moroccan companies.

West Africa and Morocco's trade links stretch far back into history, given geographical proximity and the wide use of the French language. But it was not until the last decade that Morocco ramped up its Africa investment strategy, with its monarch, King Mohammed VI, leading the way with a number of diplomatic and business initiatives. This renewed focus on the continent, along with a business-friendly regulatory environment and developing transport links, has led many commentators to describe the country as a "gateway to Africa".

In addition to its port facilities in Casablanca, Morocco boasts a world-class facility at Tangier-Med, which is still being expanded. The port currently has weekly links to nearly 40 ports in West Africa.

Morocco has also redrawn its national airline strategy, expanding Royal Air Maroc's flight network into the region at competitive rates, and positioning Casablanca as a transit hub for African-bound businesses flying in from Europe and the US.

Moroccan banks also led the charge into Africa. In 2010 the government created Casablanca Finance City (CFC) with a mandate to tout the country as a regional financial hub and to act as a bridge between the economies of the north and south.

The top three Moroccan banks, Attijariwafa Bank, DMCU, and Banque Centrale Populaire (BCP) bought banks in Senegal, Côte d'Ivoire and other West African markets, mainly from French companies who were retreating from the region.

One of Africa's best-known banks, Attijariwafa has branches in 10 African countries from Tunisia to Togo, and earns one-third of its profits from African markets outside Morocco. The bank has 499 branches in West Africa and 97 branches in Central Africa.

The three top banks posted total profits of $280m from their subsidiaries across Africa in 2017, with activities focused on commercial and investment banking, lending to larger corporations, and acquisitions of domestic and international banks.

Driven by their commercial success in West Africa, they have now pivoted east. In recent years they've started to look at other countries which are not Francophone. They're becoming quite busy in East Africa, investing heavily in Ethiopia for example, and planning a gas pipeline from Anglophone Nigeria to Morocco.

The African Development Bank estimates that 85% of Morocco's outward foreign direct investment (FDI) went to sub-Saharan Africa in 2016.

In 2017 Moroccan investment in Africa was $4.75bn, up from $3.4bn in 2016, according to the World Investment Report 2017 compiled by UNCTAD. Its portfolio of investments is wide-ranging and far-reaching, in sectors including phosphates, banking, construction, telecoms and consumer goods such as homegrown textiles.

As Moroccan trade in West Africa took off in the early 2010s, the kingdom quickly became one of the best performing economies in the Maghreb region. It grew at a pace of 3.1% in 2018 according to the IMF.

The country emerged as the continent's second most attractive investment destination in the 2018 Africa Investment Index (AII) compiled by Quantum Global Research Lab. The rating was based on the size of its economy (the sixth largest in Africa), receptive business environment, low-risk profile, and strong social capital. Morocco also ranked 60th out of 190 economies in the World Bank's Ease of Doing Business Index.