FDI in Figures
In recent years, Moroccan authorities have been successful in attracting a relatively consistent flow of foreign capital, mainly relying on the national privatisation programme, the conversion of foreign debt into investments and the operations of public services concessions. Other sectors have been dominated by foreign investment, including banking, tourism, energy and industry.
However, the level of FDI remains modest and could make a stronger contribution to launching the country's economy. Recently, a number of large industrial groups have moved their operations to Morocco. The country has also been pursuing a policy of foreign investment, which is mainly targeting the countries of sub-Saharan Africa.
After a decline in economic performance during to the global recession, in 2014 FDI flows into Morocco increased. In 2015, Morocco attracted EUR 3.6 billion in FDI, mostly in the industrial sphere. The investment was directed particularly towards the car and aircraft industry, specifically from the companies PSA, Stelia, Figeac, Aero and Delfingen. This represents a significant annual increase and the amount of investment have reached their highest levels in ten years. In addition, FDI outflows have grown even more rapidly. In 2015, the country opened the Noor solar power plant, which has benefited from funding from the African Development Bank and the European Investment Bank. Until now, the project has received over EUR 600 million and should cost EUR 2 billion in total.
Morocco ranks relatively well in the 2016 Doing Business report issued by the World Bank (placing 75th out of 189 countries). Traditionally, France, Saudi Arabia and Spain have been the three main investors. FDI is mainly concentrated in the real estate sector, followed by industry and tourism. The country's stability should attract more investors. In addition, a vast project of economic modernisation has been launched to boost FDI. Casablanca in particular aims to become an international financial centre.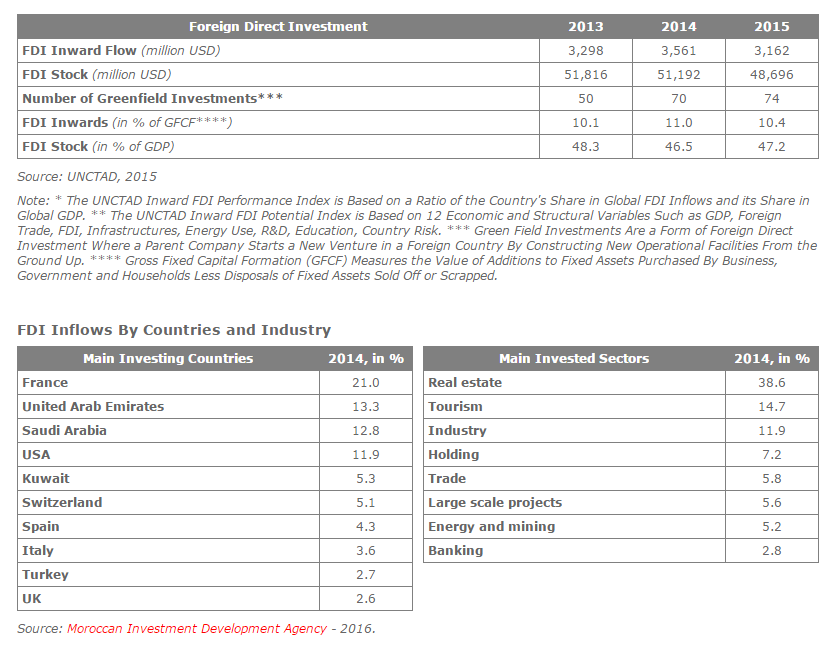 Why You Should Choose to Invest in Morocco

Strong Points: Morocco's strengths are:
- A legal framework and assistance measures very favorable to investors
- Relatively low salaries
- A strategic position, not far from Europe
- A young and relatively well trained population
- Strong growth
Weak Points: Morocco's weaknesses are:
- A still relatively limited domestic market
- A country still very dependent on agriculture and vulnerable to the prices of hydrocarbons
- A bureaucracy that is quite delayed in terms of decision-making and procedures
- Although the Government aims to reduce this issue, there is still a lack of transparency in government procurement
Government Measures to Motivate or Restrict FDI: The government adopted the "Investment Charter" in 1995. This charter mainly provides company exemptions for VAT and corporate tax for 5 years.
In the industrial sector, the Emergence Plan creates infrastructures which offer turnkey premises.
In the case of offshoring facilities, the government has offered telecommunications costs set at 35% below the market price and training grants of up to USD 7,000 for each Moroccan employee during the first three years of employment.


Sectors Where Investment Opportunities Are Fewer
Monopolistic Sectors: Mining sector, Postal services
Sectors in Decline: Textile-clothing, fishing