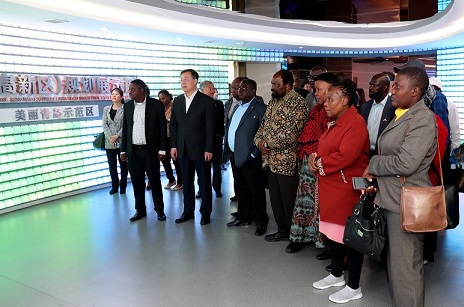 Image from sdchina.com

China intends to import more agricultural products from Zimbabwe. It is reported that China not only imports the bulk of the country's tobacco, but also is interested in horticultural products such as citrus fruits, tomatoes and avocadoes, among other commodities.

In a speech made in China, Zanu-PF chairperson Cde Oppah Muchinguri-Kashiri – who led a 13-member delegation of senior party officials on an exchange visit with Chinese officials. Discussions are presently underway to make Beijing the prime market for Zimbabwe's citrus products.

"One of the most important outcomes of the visit was that we learnt of the many business opportunities that are available between the two countries."

"We want China's companies to invest in the textile industry so that there can be value addition and beneficiation of the raw cotton that you are already importing," she said.

Other potential areas of cooperation, she added, include exports of beef, citrus, avocado, as well as minerals.

During the Zanu-PF delegation's visit to Qingdao, Qingdao's authorities said they are eager to boost trade with Zimbabwe in line with the signature foreign economic policy programme, the Belt and Road Initiative (BRI).

Qingdao CPC municipal committee deputy secretary Mr Niu Junxian told Zanu-PF delegates that this visit by the national chair (Cde Muchinguri-Kashiri) will push forward more enterprises investing in Zimbabwe, particularly in agriculture and manufacturing, so that new heights can be scaled.

"Qingdao was part of the old maritime Silk Road and it is one of the most prosperous cities in the maritime sector the world over. It is connected with China's major industries such as manufacturing, electronic, mechanical and laboratories."

Mr Niu said in the first quarter of 2019, trade between Qingdao and Zimbabwe had grown by 164 percent.

"Last year, exports from Zimbabwe to Qingdao were $4,7 million. But for the first quarter of this year's trade, it is over $3 million. There is a growth of 164 percent, which shows a healthy momentum."