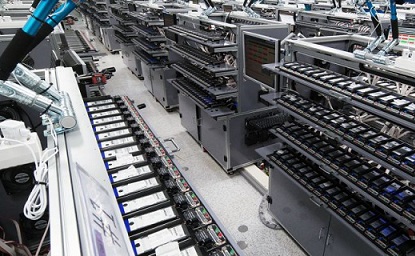 Image from Gadgets Africa

Chinese company ENGO Holdings Limited has started construction of a computer and mobile phone assembly and manufacturing plant. The plant will be located in the famous Namanve Industrial Park, in Wakiso.

During the signing and groundbreaking ceremony, the minister of ICT and National Guidance, Frank Tumwebaze said this is going to create jobs for the young innovators in software. The event was also attended by representatives from the Chinese Embassy and Uganda Investment Authority (UIA) among others.

This is going to be the first computer manufacturing plant in Uganda and in the region, and the second phone assembling company. Last year, 'LifeMobile' the first locally assembling phone plant was launched.

The company signed a Memorandum of Understanding (MoU) with the National Technology Authority Uganda (NITA-U) on behalf of the government.

He called for a strong law to compel government ministries to buy the locally manufactured computers when manufacturing starts.

"If not supported; it will close and they go to another country. This means losing jobs and taxes. We must strengthen the "Buy Uganda; Build Uganda" (BUBU) policy to support our country," he said.

The state minister for Finance Investment and Planning, Evelyn Anite said President Yoweri Museveni wrote a directive to the Prime Minister that "this Chinese ICT company" should have a partnership of assembling mobile phones in Uganda with the famous Uganda Telecom (UTL).

"It took us one year to reach where we are because of legal gymnastics. But we managed to break through. For the first time we shall not be importing these laptops from China or the US," she said.

Anite thanked the Chinese government for their continued support and taking Uganda as their first investment destination.

The ENGO, executive director, Ares Zhou said they intend to start production in six months and all products will be tagged Uganda.

He said the entire project is to cost $15m (about sh55.5bn) in five years.

The sector is growing at an annual growth rate of 27% with a contribution of 3% to the GDP.

The sector employs an estimated 2.8m people and 22million mobile phone subscribers, with 18million internet users.