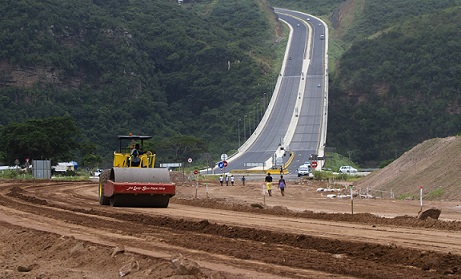 Image from african business magazine

Affected by the state of the national road network, Nigerian President Muhammadu Buhari is trying to attract private investors.

In late January, he signed an executive order which created a 10-year scheme that offers tax credits to private firms to build or refurbish roads approved by the government.

Bad roads are a major problem in Nigeria. Travelling through major interstate highways, Nigerians have to endure bumpy rides along routes marked by twists, bends, flooding, potholes and traffic backlogs resulting from the closure of sections of highway.

In 2013, a survey conducted by NOI Polls on the safety of Nigerian roads found that 82% of Nigerians believe that bad roads are the leading causes of road deaths and injuries.

In May, Nigeria's Federal Road Safety Corps said 540 people died and 3,953 were injured in 950 road traffic accidents in January this year.

Around 68.3% of Nigeria's 194,200km network of roads are unreliable and in poor condition, according to the 2013 National Integrated Infrastructure Master Plan Report.

The report found that only about 65,000km of the total national road network is paved in bitumen, even though 95% of passenger and freight traffic travels by road.

The problem is not limited to Nigeria. According to the World Bank, " between 60,000 and 100,000 kilometres of roads are required to provide intra-continental connectivity" in Africa.

Several factors have combined to create the problem in Nigeria, including an explosion in the number of vehicles (from only 150,000 vehicles in 1983 to around 11.5m now), poor road maintenance, and inadequate investment and neglect. Some highways are today on the brink of collapse.

"Unfortunately, budgetary allocation road projects has repeatedly proven to be insufficient to meet road infrastructure demands."

In 2018, for instance, the FGN [federal government of Nigeria] allocated approximately 12% (about N344bn [$954m]) of its planned capital expenditure for the year to the construction and rehabilitation of about twenty roads nationwide.

"Through this scheme, companies that are willing and able to spend their own funds on constructing roads to their factories or farms, will recover their construction costs by paying reduced taxes, over a period of time," President Buhari told CEOs and governors during the ceremony for the signing of Executive Order 007, also known as the Road Infrastructure Development and Refurbishment Investment Tax Credit Scheme.

Nineteen "eligible" roads have been identified under the pilot phase of the scheme. They will cover about 794.4km across 11 states.

Dangote Industries, Lafarge Africa, Unilever Nigeria, Flour Mills of Nigeria, Nigeria LNG, and China Road and Bridge Corporation Nigeria have been selected to drive the initiative in partnership with the national government.