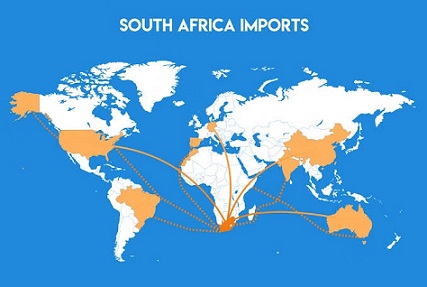 Image from WaystoCap

In 2018, the Republic of South Africa imported $93.4 billion worth of goods from the world, with an increase of 12.5% compared to 2017.

From a continental perspective, 45.1% of South Africa's total imports by value in 2018 were purchased from Asian countries. European trade partners supplied 30.6% of imported bought by South Africa while 12.4% worth originated from fellow African nations. North American exporters accounted for 7% of South Africa's imports with 2.6% coming from Latin America (excluding Mexico) plus the Caribbean, and 1.6% shipped from Oceania led by Australia.

Given South Africa's population of 55.4 million people, its total $93.4 billion in 2018 imports translates to roughly $1,700 in yearly product demand from every person in the resources-rich South African country.

The following product groups represent the highest dollar value in South Africa's import purchases during 2018. Also shown is the percentage share each product category represents in terms of overall imports into South Africa.

Mineral fuels including oil: US$17 billion (18.2% of total imports)
Machinery including computers: $11.5 billion (12.3%)
Electrical machinery, equipment: $8.6 billion (9.2%)
Vehicles: $7.1 billion (7.6%)
Plastics, plastic articles: $2.8 billion (3%)
Pharmaceuticals: $2.5 billion (2.7%)
Optical, technical, medical apparatus: $2.3 billion (2.4%)
Other chemical goods: $1.7 billion (1.8%)
Organic chemicals: $1.6 billion (1.7%)
Inorganic chemicals: $1.6 billion (1.7%)

Note that the results listed above are at the categorized two-digit Harmonized Tariff System (HTS) code level. For a more detailed view of imported goods at the four-digit HTS code level, see the section Searchable List of South Africa's Most Valuable Import Products further down near the bottom of this article or under the adjacent product folder tabs.

South Africa's top 10 imports accounted for three-fifths (60.7%) of the overall value of its product purchases from other countries.

Fastest-growing among the top 10 categories was mineral fuels including oil which gained 39.1% from 2017 to 2018.

In second place was South African exported inorganic chemicals which appreciated 26.8% year over year. In third place was organic chemicals which rose 16.4% then plastics including items made from plastic via its 14.3% increase.