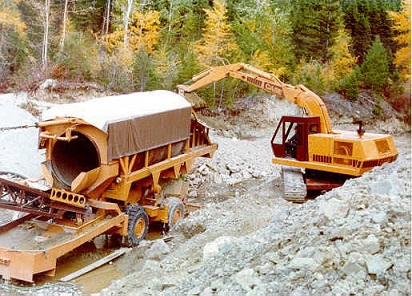 Image from Industrial Service and Machine, Inc.

As part of measures to ensure responsible mining, the government has developed policies and strategies to restructure small-scale mining.

Mr. Kwaku Asomah-Cheremeh, the Minister for Lands and Natural Resources said this during the Brong Ahafo Region's branch of the Ghana Journalist Association (GJA) maiden award ceremony held in Sunyani.

He said mining, like any other economic activities in Ghana, was governed by laws and regulations. "We need to undertake the business of mining ethically, sustainably and responsibly, given its environmental and social impacts", he said.

The mining and quarry sector, according to the Ghana Revenue Authority (GRA), accounted for 16.3% of domestic revenue in 2017.

The Minister said measures introduced by the government include the development of a five-year Multi-sectorial Mining Integrated Project (MMIP) to restructure the ASM sector.

The MMIP is aimed to meet the increasing demands to reclaim and restore degraded lands as close as possible to their original statuses, as well as providing the knowledge and skills required to bridge the gap between damaged lands; and fully restore Ghana's ecosystems.

He added that the government was in the process of amending the Minerals and Mining Act, 2006 (Act 703) to increase the penalties for illegal mining activities in the country.

Speaking on the theme: "Promoting Responsible Mining; "The Role of the Media", the Minister observed that the fight against illegal mining was a shared responsibility. "We need all stakeholders to be on board; you as the media, Civil Society organization, and chiefs are key stakeholders, he said.

The Minister was emphatic that the government was not against mining but rather supported responsible mining that ensures sustainable development.

Ghana is one of the largest producers of gold in Africa, with an output of 2.9 million ounces in 2015 (a 6.5 percent drop from the previous year). The country also produces commercial quantities of bauxite, iron ore and manganese. The country's gold sector is split between large multinational mining companies (primarily from the United States, Canada, South Africa, Australia, and the U.K.) and small-scale mining performed by local companies. Significant market opportunities in the mining industry for U.S. exporters are primarily in the large-scale mines; indigenous mining operations tend to be relatively unsophisticated and rely primarily on inexpensive equipment from Chinese manufacturers.

Opportunities in the mining equipment sector run the gamut from large earthmoving equipment to analytic and assaying devices and materials. As with other sectors, used or reconditioned equipment often is at a more appropriate price-point for Ghanaian buyers.

As Ghana's neighboring markets grow their mining activity, many of the mining equipment distributors based in Accra are beginning to serve those markets. This includes Burkina Faso, Mali, Ivory Coast and others.