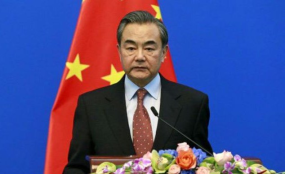 Photo: Daily News
At least 200 factories are planned for launching in the country within the next three years with China's support, a move that will boost Tanzania's drive to become an industrial nation.
The Head of Communications in the Ministry of Foreign Affairs and East African Cooperation, Ms Mindi Kasiga, told reporters in Dar es Salaam yesterday that the factories were expected to generate 200,000 employment opportunities.
Ms Kasiga was briefing reporters about a one-day working visit by China's Foreign Affairs Minister, Wang Yi, next Monday. She said during his visit, Mr Wang will meet with President John Magufuli and hold official talks with his host, the Minister for Foreign Affairs and East African Cooperation, Dr Augustine Mahiga, on cooperation between the two countries. Ms Kasiga said the two ministers will discuss China's plan on assisting Tanzania to realise its industrialisation dream.
She explained that in December 2015, during the Sixth Forum on China-Africa Cooperation (FOCAC) summit held in Johannesburg, Tanzania was selected among four countries in Africa to be supported by China in realising industrialisation.
Other countries are Kenya, Ethiopia ad South Africa. "Under the Sixth FOCAC action plan at least 200 factories are expected to be set up before 2020 and will generate 200,000 employments," she said.
The ministry's Spokesperson said the industrilisation plan was crucial for the country because it is in line with the second Five-Year Development Plan (FYDP) and President John Magufuli's initiatives of turning Tanzania into an industrial country.
She said the small and medium scale factories will be set up across the country, noting that Tanzania has opted for labour intensive factories to generate employment to majority of Tanzania.



Ms Kasiga, however, said that apart from industrial development plan, the two ministers will also hold talks on other infrastructure projects of which China has committed itself to support Tanzania, among others, improvement of Tanzania- Zambia Railway Authority (TAZARA), construction of Bagamoyo Port and Central Line.
Speaking to the 'Daily News' earlier yesterday, the Ambassador of China in Tanzania, Dr Lu Youqing, said Minister Wang's visit will enhance bilateral cooperation which includes implementation of agreements entered between the sides. Mr Wang follows diplomatic tradition - making Tanzania and the African continent his first overseas destination in 2017.
China is the second largest investor and trading partner with Tanzania. The investments have not only boosted the country's economic growth but also has created over 150,000 direct and over 350,000 indirect employment. China's investments in the country focuses on various areas including railway, ports, buildings, roads, gas pipelines and natural gas power generation plants.