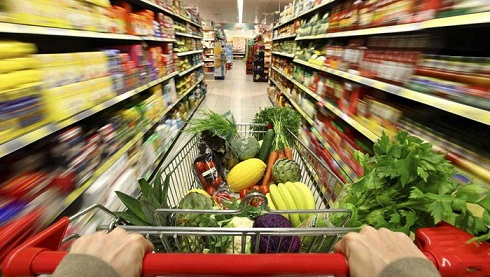 Image from okmugello.it

Quarter-to-quarter, import unit value of food registered a negative growth of 0,4%, while fats and oils and grain mill products were at a positive growth of 5,0% and 4,4%,respectively.

Main food export destinations and products
Asia was the main export destination during 2018: Q4 for South Africa. It accounted for 31% of the total share of exports followed by Africa, Europe and Americas with a share of 27%, 25% and 9%,respectively. Additionally, Oceania has a share of about 1%.
Top ten food export destinations for South Africa by countries in 2018: Q4. Countries that accounted for a huge export share of food during2018: Q4 were: China (9,2%), Germany (8,3%), United States (6,7%), United Kingdom (5,3%), Japan (4,8%), Botswana (4,6%), Namibia (4,0%), Mozambique (3,6%), the Netherlands (3,2%) and Zambia (2,6%).

Main source of food imports and imported food products
Table below presents the major imported food products during 2018: Q4. It shows the current quarter performance values and also the percentage change as compared to a year ago (year-on-year).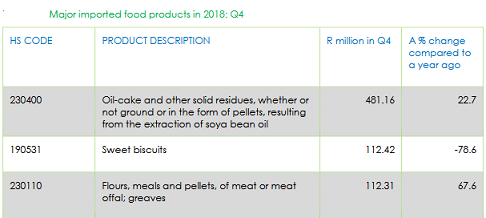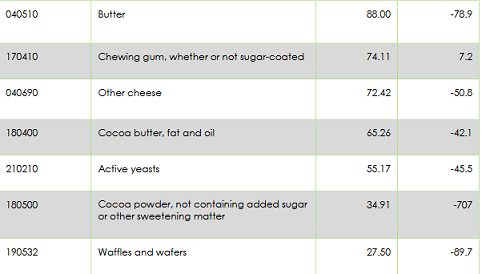 Source: Quantec, 2019
Asia accounted for a large share of food importsby accounting for 45% share, followed by Europe with 29%, then Africa and Americas with a share of 13% and 10%, respectively. Oceania accounted for a 1%share.
The top ten countries that accounted for a large share of South African food imports were: China (18,6%), Germany (9,0%), the United States (6,1%), Saudi Arabia (5,6%), Nigeria (4,4%), India (4,2%), United Kingdom (4,3%), Japan (3,1%), Thailand(3,0%) and Italy(2,7%).