FDI in Figures
Cameroon receives little foreign direct investment (around USD 570 million in 2013), with net FDI flows representing a modest percentage of GDP. Mining, including oil extraction, remains the most targeted sector. France is the largest investor in the country. In December 2015, the Indian company Imperial Holding Ltd. announced a project to build a water treatment plant for CFA 49 billion.


Cameroon's economy has the potential to become one of the most prosperous and best placed to receive foreign direct investment in Africa. However, it is currently towards the bottom of the rankings in terms of FDI attractiveness. Thus, Cameroon ranks 172nd out of 189 countries in the 2016 Doing Business report prepared by the World Bank. While the country has many natural resources (oil, forestry, fisheries), as well as fertile land on which to build, it needs to improve and simplify its administration in order to boost entrepreneurship and fight against corruption.
Cameroon needs to attract foreign investors in order to finance its future projects of developing infrastructure and notably, the exploitation of gas. Large French companies are well-placed in these developing sectors. Increasingly attracted by the African continent, Cameroon has been drawing increasing attention from China, which funds investment projects all over the African continent.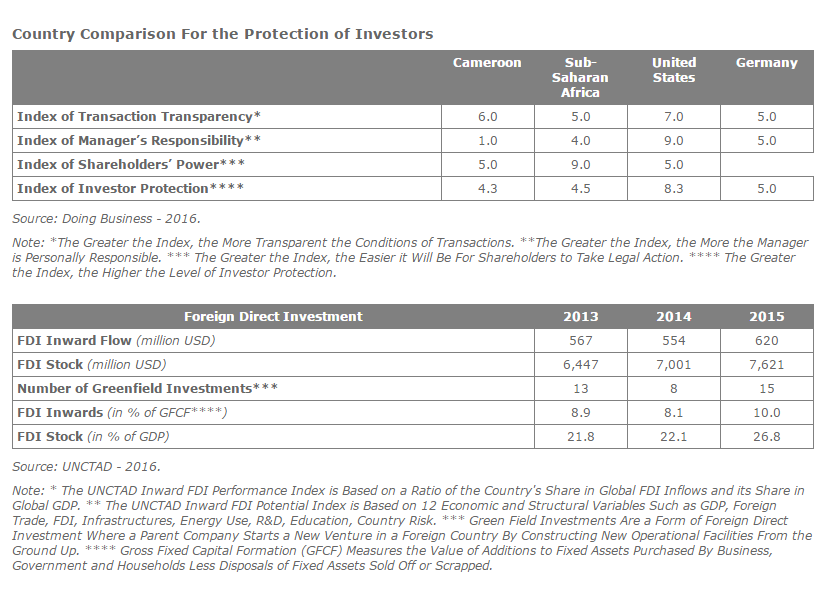 Why You Should Choose to Invest in Cameroon

Strong Points

The country's strong points are:
- A cheap workforce; and abundant natural resources; The 2010-2011 economic plan contains measures likely to attract direct foreign investments, particularly in high capital areas (mining, food industry, energy and construction). In particular, the Cameroonian government is working on the establishment of a one-stop shop for the creation of companies.

Weak Points

The country's main weaknesses are:
- The cost and length of time required to create a company: 37 days for a cost of nearly 150% of the per capita income;
- Tax liability;
- Corruption; and
- The lack of infrastructure.

Government Measures to Motivate or Restrict FDI

The Cameroonian government has targeted certain sectors as priority sectors for investment: transport, food industry, tourism and rural development. In order to attract more investors, significant programs are being implemented by the public authorities, with the support of financial backers, in order to improve judicial decisions, increase energy supplies, reinforce economic information, simplify procedures, support companies, and ensure the protection of the economic area against illegal threats. Cameroon also has free trade zones in which all export companies can set themselves up, that is to say, companies that produce goods and provide services meant exclusively for export. There are a many advantages for companies: exemption from all licenses, authorization or quota limitation for both export and import, possibility of being able to open a foreign currency account, no restrictions on sales operations, purchase of foreign currency, right to transfer profits abroad (however 25% has to be re-invested in Cameroon), tax and duty exemption for a period of 10 years from the beginning of operations and taxation at a general rate of 15% on profits from the 11th year.