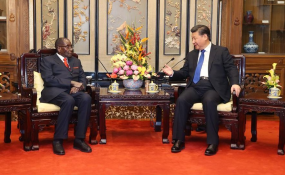 Photo: Yao Dawei/Xinhua
PRESIDENT Xi Jinping said on Monday that China was willing to encourage capable companies to invest in Zimbabwe and expand mutually beneficial cooperation. Xi made the remarks when meeting with his Zimbabwean counterpart, Robert Mugabe at the Diaoyutai State Guesthouse.
Xi told Mugabe that China appreciates Zimbabwe's support for China on issues related to its core interests and major concerns.
China will continue to back Zimbabwe in safeguarding its national sovereignty, security and development interests, as well as support the development path chosen by the Zimbabwean people, said Xi.
In December 2015, Xi paid a state visit to Zimbabwe and attended a summit of the Forum on China-Africa Cooperation in Johannesburg, South Africa, in which he announced a series of plans to enhance China-Africa cooperation.
The outcomes of the summit and the consensus between him and Mugabe on lifting ties are being actively implemented, Xi said, noting the two countries have cooperated in infrastructure, agriculture and other fields.
Recalling Xi's state visit and the successful Johannesburg summit, Mugabe said African countries are actively pushing forward the smooth implementation of the major cooperation plans initiated by Xi at the summit.
Zimbabwe is ready to deepen collaboration with China in infrastructure, agriculture and other areas, he said.
XinhuaZim