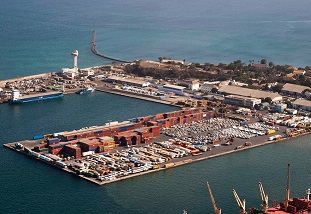 Image: Portdakar.sn

Thanks to continued public investment and the expansion of the energy industry and the digital economy, Senegal's economy is growing strongly.

Building on average annual growth of around 6% since 2014, the economy is expected to expand by 6.8% this year, according to both the IMF and the World Bank.

The economy is driven by traditional sectors such as agriculture and fisheries, which accounts for roughly 17% of GDP and employs one-third of the population. Senegal's major agricultural products are fish, nuts, black-eyed peas and cassava.

Industry contributes approximately 25% to GDP, driven by food processing and the extraction of minerals such as phosphate and iron ore. Meanwhile, the services sector accounts for around 50%, encouraged by strong telecoms infrastructure and a recent increase in tourism.

The strong growth experienced in recent years coincided with the 2014 rollout of the Emerging Senegal Plan (ESP), a 20-year economic development strategy. The second phase of the ESP was launched in 2019 and will run until 2023.

The plan aims to modernise the economy by strengthening the participation of the private sector, encouraging foreign investment and increasing exports. To this end, officials have sought to improve the business climate by introducing a series of administrative, fiscal and legal reforms.

Energy to underpin broader economic growth

A key part of the ESP and a crucial driver of growth moving forward is the development of the energy industry.

In mid-December it was announced that the Taiba N'Diaye wind farm, located around 80 km north-east of the capital Dakar, had begun providing power to the national grid.

Built by Dutch-based, Africa-focused renewable energy company Lekela Power, the 187.5-MW project, the first utility-scale wind farm in West Africa, is expected to increase Senegal's generation capacity by 15% once fully completed later this year, providing power to some 2m people.

This represents an important development in the government's plan to increase renewable energy's contribution to the power mix to 15% by 2025 and 25% by 2030. The project will also help meet the aim of achieving universal access to electricity by 2025; in 2018 coverage stood at 68%.

Elsewhere, the country has sought to capitalise on its natural resources following a series of oil and gas finds in recent years.

In November last year Senegal announced a new licensing round for three offshore oil and gas blocks, and in mid-January the Ministry of Petroleum and Energy signed a deal with an international joint venture to begin work on the $6bn Sangomar offshore oil field.

The project is being developed by Australian companies Woodside Energy and FAR, a subsidiary of British energy firm Cairn Energy, alongside the Senegalese national oil company Petrosen. It is expected to pump its first oil in 2023 and will have a processing capacity of 100,000 barrels per day.

The production of oil and gas in the coming years is not only expected to provide cheaper energy solutions for the domestic market, but is also set to significantly boost economic growth.

The IMF projects growth will reach 8.4% in 2022 and 11.6% in 2023, on the back of the expected start of energy production.


Port expansion

Senegal has also invested significantly in maritime infrastructure in recent years, as it looks to establish itself as a regional logistics hub.

The Autonomous Port of Dakar, the country's major maritime facility, is undergoing expansion work that will see annual container traffic capacity increase from 2018 levels of 800,000 twenty-foot equivalent units (TEUs) to 1.2m TEUs by 2022.