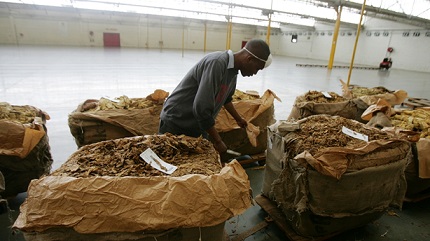 Image: zimlive.com

According to statistics from the Tobacco Industry and Marketing Board (TIMB), tobacco delivery reached a record high in 2019, reaching 259 million kg, at a time average prices were the lowest in years.

Tobacco is one of the country's top forex earner which has helped shore up revenue needed for the importation of raw materials, fuel and pharmaceuticals among others. Tobacco accounted for a quarter of Zimbabwe's $3.8 billion in total export earnings in 2017, behind gold.

This is despite the fact that the crop was grown under drought conditions marked by late rains and prolonged dry spells, particularly when the crop was almost ready for harvesting. The 2020 tobacco marketing season is set to begin late due to late rains, Tobacco Industry and Marketing Board chairperson (TIMB) Patrick Devenish has said.

According to Devenish, the unofficial initial projection output for 2020 is estimated at 225 million kg. Devenish said the small-scale dryland crop is set to come out good as it was planted in time for better rains.

In general, the average price of tobacco in 2019 has been lower by about 31 percent compared to those of last year. The average price of 2018 was 2.92 U.S. cents per kg compared to 2.02 in 2019.

Tobacco is Zimbabwe's main foreign currency earner, with China being the biggest buyer of the crop.

The remarkable rise in Zimbabwe's tobacco production comes after production plummeted from the previous peak of 231 million kg in 2001 to a new low of 48 million kg at the height of the country's economic crisis in 2008.