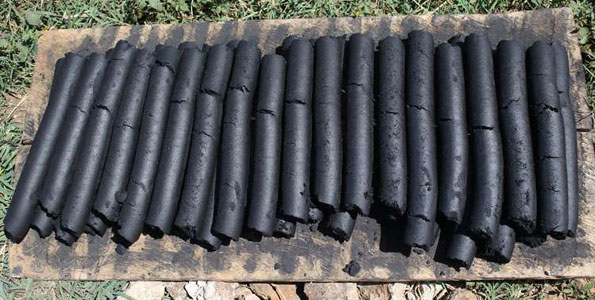 Briquettes dry up. Charcoal and biomass briquettes are cost-effective energy substitutes. FILE PHOTO | PHOEBE OKALL
Renewable energy companies in East Africa are now turning to crowdfunding to raise money for expansion.
East Africa is facing growing energy demand alongside rising levels of fossil fuel consumption. Together with growing urban populations and deforestation, greenhouse gas emissions are also sharply increasing, which is why there is a great need for renewable energies in the area.
Firms that provide solar kits and modern cooking stoves — such as Rubagabaga Run of River Hydropower Project in Rwanda, SimGas Kenya Ltd, Eco-Charcoal Ltd and Uganda's Eco Group Ltd — are bypassing traditional financial intermediaries and turning to online crowdfunders.
Crowdfunding involves the use of Internet and mobile phone technologies to tap donations on platforms whose benefactors expect no financial return. In some cases, funders demand to exclusively sell the products from which they earn a margin.
Eco-Charcoal
Eco-Charcoal, which makes briquettes, is raising funds through the mobile phone platform M-Changa, to boost output at Kasigau, between Tsavo East and West National Parks in Kenya's Coastal region.
Eco-Charcoal is a premium quality product which burns longer and generates important co-benefits for both communities/producers and forest conservation. It is the only product of such kind in Zambia and currently marketed to hospitality industry and individuals.

The firm, formerly known as Kasigau Tree Farm project, said it had raised more than $4,700 of the $15,000 target by the end of 2016.
Britain's Department for International Development will match Eco's capital up to $30,000, from its $1 million crowd power programme.
Eco-Charcoal's director Ian Pesa said the firm plans to scale up output from 500 kilogrammes per month to 1,500 tonnes of briquettes from pruned tree branches by 2020, while conserving the ecosystem and mitigating climate change.
"We anticipate increasing direct and indirect employment, especially for women in Kasigau area, and creating a tree farm business model in Kenya and East Africa," he said.
Eco-Charcoal will use the money raised to buy equipment and machinery, conduct research and marketing, raise awareness and run capacity building workshops on climate change for the local population.
Eco-Charcoal's co-founder Beatrice Despioch said rising demand for energy due to population growth and urbanisation has created the need for charcoal and biomass briquettes as viable cost-effective energy substitutes.
"The rising demand for energy creates an urgent need to provide cost-effective substitutes to firewood and charcoal, and meet fuel consumption needs in Kenya. This is what we aim to achieve through crowdfunding," she said.
SimGas Kenya
SimGas Kenya plans to use the funds to be raised via the Lend-a-hand crowdfunding platform to give out loans to 170 farmers to buy biogas systems.
"This will also give farmers access to organic fertiliser, which can be used on their land or sold to other farmers. Our mission is to empower people by offering them the tools to improve their lives and income," said the firm.
Forecasts indicate that in Kenya, the biggest economy in the region, the percentage of fossil fuels in total energy needs will increase to 29 % by 2015. Other countries, such as Uganda and Tanzania, rely largely on biomass fuel, such as charcoal and wood. Given that these energy sources depend on the area's depleting natural resources, costs are set to increase significantly.