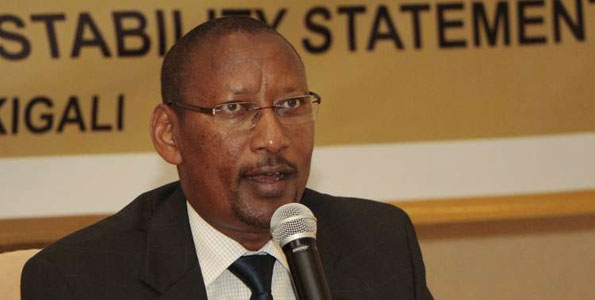 John Rwangombwa, the National Bank of Rwanda governor. FILE PHOTO | CYRIL NDEGEYA
By KABONA ESIARA
The Rwandan economy closed 2016 on an optimistic note, with the financial stability and monetary policy committees of the central bank reporting a narrowing trade deficit. This is attributed to a robust rise in formal exports and moderate shrinkage in formal imports.
The bank announced a cut in its policy rate, from 6.5 to 6.25 per cent, for the fourth quarter of 2016, "to further support financing of the economy by the banking sector," said John Rwangombwa, Governor of the National Bank of Rwanda.
The committees' decisions came against the backdrop of a drop in lending to the private sector, which fell to 4 per cent in the first 11 months of 2016, from from 13.2 per cent in 2015. Outstanding credit to the private sector grew by 7.4 per cent from 26.9 per cent in 2015, on fewer new authorisations.
The value of issued loans rose to Rwf701 billion ($852.9 million) in the first 11 months of 2016, from Rwf674.2 billion ($820.3) in 2015. But banks' profits after tax fell to Rwf32 billion ($38.9 million), from Rwf33 billion ($40 million) in 2015.
On the bright side, the value of formal exports expanded by 6.1 per cent against a 2.4 per cent drop in formal imports, while economic growth in the first half weighed in at 6.5 per cent. The import bill fell from $1,602.21 million in 2015 to $1,519.97 million.
"The economy continues to perform well but at a low pace compared with the corresponding period of 2015. Still it remains in line with the projected growth of 6 per cent for 2016," said Mr Rwangombwa.
Although commercial banks financial soundness indicators remain well above requirements, they experienced some erosion in the first nine months of the year, with the capital adequacy ratio (CAR) falling by 1.7 percentage points, because of a rise in non-performing assets, although at 22.5 it was still above the statutory minimum of 15 per cent of total assets.
Liquidity stood at 43.8 against a statutory minimum of 20 per cent. Bad loans grew from 6.3 per cent in the first nine months of 2015 to settle at 7.5 per cent. But the microfinance sector maintained high liquidity at 90.4 per cent.
While Mr Rwangombwa said he does not expect an immediate impact from the policy action on lending rates, bankers were optimistic.
KCB Rwanda managing director Maurice Toroitich said the move to be be reciprocated by the industry. "Lower policy rates will lead to lower market rates over time, which should make it easy for private sector actors to invest in productive activities," he said.