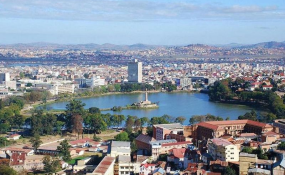 Photo: Sascha Grabow. Antananarivo, Madagascar.
Africa's largest airline group, Ethiopian Airlines announced that it would add Antananarivo,Madagascar, to its network as of March 28, 2017.
Ethiopian Airlines is Ethiopia's flag carrier and is wholly owned by the country's government. EAL was founded on 21 December 1945 and commenced operations on 8 April 1946, expanding to international flights in 1951. The firm became a share company in 1965, and changed its name from Ethiopian Air Lines to Ethiopian Airlines. The airline has been a member of the International Air Transport Association since 1959, and of the African Airlines Association (AFRAA) since 1968. Ethiopian is a Star Alliance member, having joined in December 2011.

Ethiopian new nonstop flight would operate three times weekly to and from Addis Ababa, where passengers can connect to and from cities throughout the world, including Washington, London, Frankfurt, Paris, Rome, Beirut, Jeddah, Cairo, Dubai, Delhi, Mumbai, Hong Kong, Shanghai and Beijing.
Ethiopian Airlines Group CEO Tewolde Gebremariam said: "Ethiopian, as a national carrier is pleased to add Madagascar to its wide network. Having started serving Africa seven decades ago with our motto "Bringing Africa Closer", we are now continually enhancing our services and working to "Connect Africa to the rest of the world."
According to him ,as air connectivity is an essential cause and driver of national socio-economic integration, the new service would certainly contribute for the growing business and bilateral cooperation with other sisterly African cities.
Moreover, Tewolde said travelers from Madagascar would be seamlessly connected with Ethiopian ever-expanding network across the five continents."I would like to thank all who made this route possible."
Ethiopian is a truly indigenous Pan-African carrier that operates the youngest and the most modern fleet in the continent with an average aircraft age of less than five years.
Antananarivo also known by its French colonial shorthand form Tana, is the capital and largest city in Madagascar. The larger urban area surrounding the city, known as Antananarivo-Renivohitra ("Antananarivo-Mother Hill" or "Antananarivo-Capital"), is the capital of Analamanga region. The city is located 1,280 m (4,199 ft) above the sea level in the center of the island, and has been the island's largest population center since at least the 18th century.
Madagascar would join the ever expanding Ethiopian network of 95 worldwide destinations. Antananarivo is the capital and the largest city of Madagascar. The island nation is known as a "biodiversity hot-spot" as over 90 percent of its wildlife is found nowhere else on earth. It is also home to lush rain-forests and is famous for its curious lemurs.