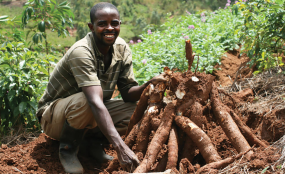 Photo: East African Business Week A farmer with cassava (file photo).
Dar es Salaam — Tanzania has signed a $1 billion partnership agreement with a Chinese firm to commercialise cassava farming and processing, raising hopes to growers who have been grappling with the challenge of accessing reliable markets.
Tanzania Agricultural Export Processing Zone Limited and Epoch Agriculture (TAEPZ) from China said they created an out-grower scheme that will ensure sufficient production of cassava for processing.
The firm will also establish an industrial park comprising of factories to produce cassava flour, cassava starch, animal feeds, organic fartilizer and paper pulp, starting with three regions of Mtwara, Lindi and Coast, according to firm's chairperson Dior Feng. "The next phase will include production of industrial sugar and ethanol," she said.
It was not clear when exactly this will start but Tanzania Private Sector Foundation (TPSF) said it will intervene to make sure it kicks off as soon as possible.
TPSF executive director TPSF Godfrey Simbeye said Tanzania has a lot of untapped opportunities and the private sector was ready to fully exploit them.
"We have to intervene in the project for the purpose of ensuring that it is fast-tracked and given its potential in spurring inclusive economic growth. We facilitated the assessment whereby our country can conform to Chinese standards," he said.
He said cassava as a white gold features well in the current industrialization strategy and also solve food security challenges. According to him, the current statistics indicate that Tanzania produces 5.5 million tonnes of cassava every year, while TAEPZ will consume 2.5 million tonnes of dry cassava every year.
"TAEPZ, the locally registered company has shown interest to invest in cassava production and export (Lindi Industrial Park and Production Farms). The company has secured a market of 2 million metric tonnes of dry cassava chips per annum with increase of 5 per cent for subsequent year," Mr Simbeye stressed.