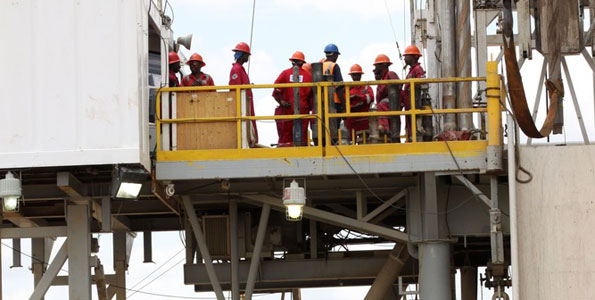 Workers at an oil rig at Ngamia 1 in Kenya's Turkana County. PHOTO | FILE
By KENNEDY SENELWA
British explorer Tullow Oil has announced new crude find in Turkana in northern Kenya.
Tullow Oil is a leading independent oil and gas exploration and production company. The Group has interests in over 110 exploration and production licences across 19 countries which are managed as three Business Delivery Teams: West Africa, East Africa and New Ventures.

Tullow said Tuesday it hit 25 metres of oil after drilling 25 metres of rock reservoir at Erut-1 well in the South Lokichar basin. The wildcat well (virgin exploration field) has no previous record of oil reserves.
"Overall oil column for the field is considered to be 100 to 125 metres," Tullow's exploration director Mr Angus McCoss said.
"This extends known hydrocarbon limits of the basin," said Mr McCoss, adding more drilling will be carried out in "the underexplored northern part of the basin where we have several undrilled prospects."
The latest find is set to increase the country's recoverable reserves from the current 750 million barrels.
Kenya, whose first oil discovery was made in 2012, hopes to hit one billion barrels of recoverable crude. Kenya has one of the largest crude oil refineries in East Africa, the 90,000-barrels-per-day (bbl/d) Mombasa refinery. The refinery typically operates below capacity and processes Murban heavy crude from Abu Dhabi and other heavy Middle-Eastern crude grades. In 2011, Kenya imported about 33,000 bbl/d of crude oil entirely from the United Arab Emirates, according to the Kenya National Bureau of Statistics (KNBS). Kenya imported 51,000 bbl/d of refined oil products in 2011, according to KNBS. Kenya has a product pipeline system that transports petroleum products from Mombasa to inland areas. Most of the imported and/or domestically refined products are sold in Kenya's major cities and the remainder is sent to neighbouring countries via trucks. In 2011, Kenya consumed around 81,000 bbl/d of oil products.
In its Early Oil Pilot Scheme, the country targets to start exportation in June with Tullow and its partners Africa Oil and Maersk intending to produce 2,000 barrels of oil per day.
Tullow, however, did not disclose how many barrels of oil it struck at the Erut-1 well.