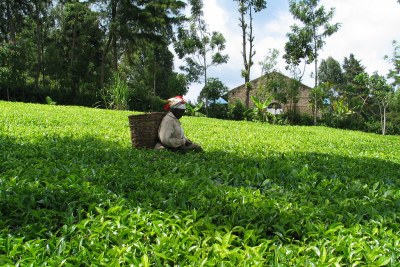 Image from Allafrica
The long-awaited Tea Bill has been passed by the national assembly. the bill will also see the revival of the Tea Board of Kenya which will help regulate the sector and market the tea to overseas markets, as well as the Tea Research Foundation. The bill, when finally approved, will require prompt payment of farmers, many of whom waited up to 2 years for full payment of their produce, in what has been called the "Bonus coming in October" writes John Kamau for Daily Nation.


For Joseph Mwangi and his wife, picking tea early in the morning has become more difficult lately. "We have been experiencing frost on the leaves," Mwangi says. "This makes it hard to work, because the frost stings our hands," he added.


Mwangi and his wife Alice Muthoni (pictured above) earn their living as tea-pickers in Makomboki, central Kenya. Due to the frost, they have had to start picking tea leaves two hours later. But this presents new problems to the couple.


"When I start working late, I only manage to pick 40 kilograms of tea leaves a day, as compared to 70 kilograms in the past," Muthoni says. "This reduces my pay for the day," she points out. To earn $1, she has to pick 10 kilograms (22 pounds) of tea leaves.


The tea that the couple picks is delivered to the Makomboki Tea Factory. Evans Muchiri, a production manager at the factory, says that due to weather changes, they have recorded a 16 percent drop in tea harvested so far in 2019, compared with 2020.