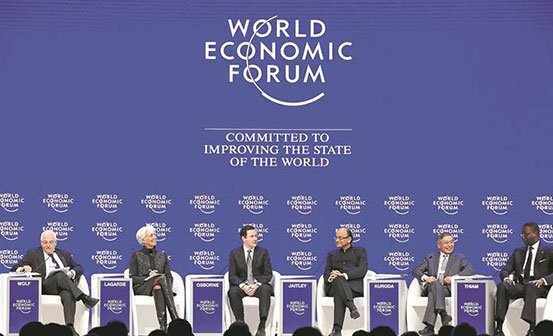 Kenya lags behind the region in creating inclusive economic growth despite years of robust wealth creation. New data from the World Economic Forum (WEF) released at the opening of this year's global meeting in Davos yesterday indicates that Kenya's wealth creation over the past decade has left a majority of the citizens behind.
Kenya is ranked 65th out of 109 on the inclusive growth and development index (IDI), a new measure for growth championed by the WEF to provide a more accurate picture of economic development than Gross Domestic Product (GDP) growth. "This new global index conveys a more integrated sense of the relative state of economic development – and recent performance – than conventional rankings based on GDP per capita alone," explained the WEF in part.
In addition to GDP per capita, the IDI ranks economies along measures of growth, inclusion and inter-generational equity, and compares this with previous measures. "Some countries score significantly better on the IDI than on the basis of GDP per capita, suggesting they have done a relatively good job of making their growth processes more inclusive," explains the report in part. These countries range from low income to high-income countries and include countries like Cambodia, the Czech Republic, New Zealand, South Korea, and Vietnam. On the flip side, other countries including South Africa, Mexico, Nigeria, Brazil, Japan and the United States are reported to traditionally have high GDP per capita rankings but lower IDI rankings indicating economic growth without social inclusion.
Best performer
At an average growth rate of 5.9 per cent over the past seven years, Kenya has stood out as one of the best performing economies in the region even as other economies battle commodity slumps and currency devaluations. Kenyans have however questioned the country's economic growth as benefiting only a small proportion of the economy while the rest remain stagnant. The new ranking has Tanzania leading the East African region in translating the benefits of economic growth into social inclusive followed by Uganda, Kenya and Rwanda.
Despite Kenya's advances in free primary and secondary education, inclusive growth is held back by unemployment that has remained at 40 per cent and has further seen its performance in providing sustainable development to all decline by 4 per cent in the past five years. In addition to this, Kenyan businesses are yet to reap the dividends from the country's relatively developed financial system with majority of them remaining confined to the informal sector. "Kenya has comparatively low labour productivity and GDP per capita as well as a high dependency ration and wealth inequality has worsened considerably over the years," WEF report reads in part.