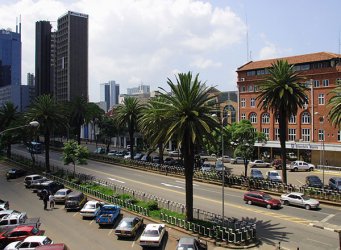 By Peter Muiruri
Nairobi has been ranked as the 10th most dynamic city in the world due to its re-emergence as a regional technological hub. Nairobi is the capital and largest city of Kenya. It is famous for having the Nairobi National Park, the world's only game reserve found within a major city. The city and its surrounding area also form Nairobi County, whose current governor is Evans Kidero and Deputy Governor is Jonathan Mueke.
This is according to the fourth annual City Momentum Index (CMI) report released yesterday by American professional services and investment management firm Jones Lang LaSalle. Nairobi is the only metropolis in Africa to be listed in the Global Top 30 of the world's fastest-changing cities. It beat global hubs such as Dubai, New York and Paris that were ranked 11th, 14th and 17th respectively. According to the firms' head of corporate solutions for Sub-Saharan Africa Ewout Holst, Nairobi is proving to be a fertile environment for innovation, which is fuelling a development boom across all sectors. "Technology is a significant driver of momentum in the world's 30 fastest-changing cities, and it is the key reason for Nairobi's shift up the ranking in 2017 into the Top 10. It is home to iHub, Africa's most successful tech incubator, and is a leader in mobile payment technologies, typified by MPesa. The escalation in tech development is boosting the city's attractiveness as a preferred destination for regional headquarters on the continent," said Holst.
However, Holst stated that Nairobi has challenges that cannot be overlooked. These include slums and lack of high quality infrastructure. "Despite the challenges, the city has a strong urban vision which seeks to address the infrastructure deficit and continue to promote the development of the technology sector. It's a vision that is cementing the city's reputation as the gateway to East Africa for many firms seeking a base on the continent," he says. The 134 cities covered by the report were assessed using 42 variables including recent and projected changes in city Gross Domestic Product, innovation and environment, population, corporate headquarter presence, commercial real estate construction and rents.
Known as the safari capital of Africa, Nairobi is an energetic, modern city that serves as a fascinating introduction to both wildlife and nightlife. Music clubs pulse with life, shops and markets bustle, and a mélange of restaurants will tempt your palate in this former Maasai watering hole. Top sights include the Karen Blixen Museum, Giraffe Centre and the black rhinos of Nairobi National Park. The compact city center is safe to walk in and taxis make other areas accessible.