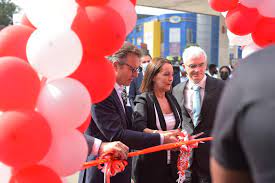 Image from Myjoyonline
Total Petroleum Ghana PLC has launched its 'Autofast Activity' at all Total pump stations.

The Autofast Brand offers a complete car maintenance solution to customers including report, drainage, filters and new tires.

According to the Managing Director of CFAO Ghana PLC, Paulo Fernandes, it is an important step to provide convenience and a broader professional car care services at their respective stations.

"Our company values our commercial relations with our customers and always develop partnerships to offer the best services to our mutual customers CFAO. We are launching the 1st of such Autofast Centres to be developed at selected Total Stations across the country", he said

"The first Autofast in Ghana moves our business relationship to the next stage. It is also a milestone in our joint journey in Africa as Ghana has become the pioneer country with such a concept and our Liberation Road Service Station the 1st Autofast Center," he added.

Total has been present in Ghana since 1951 and the only privately owned-listed company in the oil company. This year, the company will celebrate its 70th birthday.