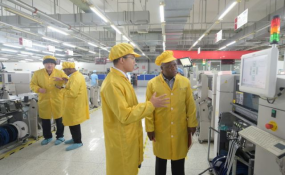 Photo: Daily News
Dar es Salaam — Tanzania expects nearly 1,000 Chinese extra-large investors promising to invest in a special economic zone including textile, manufacturing, fishing, mining and agriculture across the board following mutual bilateral relations between the two countries.


Tanzania is China's largest aid recipient country in Africa. Since 1964 China has provided various kinds of assistance to Tanzania. The largest Chinese-supported projects In Tanzania include: the Tanzania Zambia Railway (TAZARA), Friendship Textile Mill, Mubarali Rice Farm, Kiwira Coal Mine and Mahonda Sugar Cane Factory.

Tanzania has had unprecedented interest from China, and it has definitely helped them develop no end, in a manner by which they could not have achieved in such little time, however, it has come at a cost. Exploitation of its natural resources, people and wildlife are high. The costs of the China's foreign direct investment could be rationalised if it demonstrated an increased benefit on the population. Whilst the infrastructure generates the capacity for growth, the plight of corruption creates some disdain for the progress and the extent to which poverty is in fact alleviated, especially when it is so predominant from the moment one leaves Julius Nyerere International airport of Dar-Es-Salaam.

"Massive investments will come from large scale Chinese investors eyeing to invest in those sectors to boost the country's financial income through Direct Foreign Investment (FDI) and other contributions that will be brought by them," Tanzania Overseas Chinese Association, Chairman of Superintendent, Andrew Huang said in an exclusive interview with the East African Business Week.
He said the Chinese business community in Dar es Salaam pledged to work closer with the fifth phase government under Dr. John Pombe Magufuli to foster social and economic development of Tanzania.
Huang noted the crackdown on red tape, corruption has turned around the country's image in local, regional and international arenas following a move taken by the President Dr. Magufuli to reshape Tanzania while reducing the cost of doing business.
The Chairman said more Chinese business people will continue to flock the Tanzania market as the government is seeking to create a favorable environment for trade and investment. "For the time being we have about 20,000 business people from China who are operating in different sectors in rural and urban areas across the country," he said.
He cautioned Chinese business community operating in Tanzania that they should follow the legislations, rules and regulations that to ensure that they don't insolvent with the country's governing laws.
"It is our hope that following that investment, thousands to millions of employment opportunities will be created then lift ordinary Tanzanians from extreme poverty," he added.
Huang noted his platform gears to host the Chinese Business forum in collaboration with the Tanzania Investment Centre (TIC), Ministry of Industry and Trade and Tanzania Revenue Authority (TRA) in April this year expecting more than 1,000 Chinese business people.
"Bilateral trade between China and Tanzania has also soared in the same period, reaching over USD 2.5 billion by the end of 2012," the available data shown.Open Data for International Development (AidData) also shows that Beijing has emerged as Tanzania's single biggest trading partner in 2012, accounting for 15% of Dar es Salaam's trade.
Lately, China and Tanzania have taken on up to 19 projects worth billions of dollars. Some of these projects have been financially backed by the Chinese state-owned Exim Bank. One of these deals involves the construction of the multi-billion-dollar port at Bagamoyo, (some 45km northwest of Dar es Salaam) the capital of Tanzania.
Set to be the largest and most modern port in Africa, the harbour is expected to be in operation by 2017. It will handle 20 times more cargo than the Dar es Salaam port, which is Tanzania's current major import and export gateway in East Africa.
China-state-run-firm, Merchants Holdings, has also won a deal to construct a 34 km road between Bagamoyo and Mlandizi, linking the port to Tanzania's internal rail network and the Tanzania-Zambia Railway.
Additionally, a Chinese $1.2 billion soft loan transaction for a 523km line connecting Dar es Salaam and the Mtwara gas field was endorsed in September 2012 between Tanzanian government and the Exim Bank.
Between 2001 and 2011, mineral-rich Tanzania received funding worth $4.6 billion from the Chinese. According to available data, China's state-owned Sichuan Hongda Group got into a $3 billion partnership with Tanzania's National Development Corporation (NDC) to develop a major iron and coal mine.
Beijing companies also own a bigger share of Tanzania's civil engineering industry. Private Chinese companies have also stepped up investments into Tanzania. China's total direct investment in Tanzania soared from $700 million in 2011 to $2.1 billion last year, turning the world's second biggest economy into the biggest foreign investor in the East African country.
Chinese FDIs in Africa at the end of 2014 were USD24.5b representing 14% of China's total FDI in that year according to the World Resources Institute (WRI). Tanzania accounted for 16.3% of China's FDI to Africa with USD4b in 2014, an increase of 100% from the total Chinese FDI recorded in the country at the end of 2013, according to the Chinese Embassy to Tanzania. At the end of 2015 the Tanzanian Government announced that over 100 Chinese investors will set up their businesses in the country, as part of a five-year program backed by the China Africa Development Fund (CADFund).