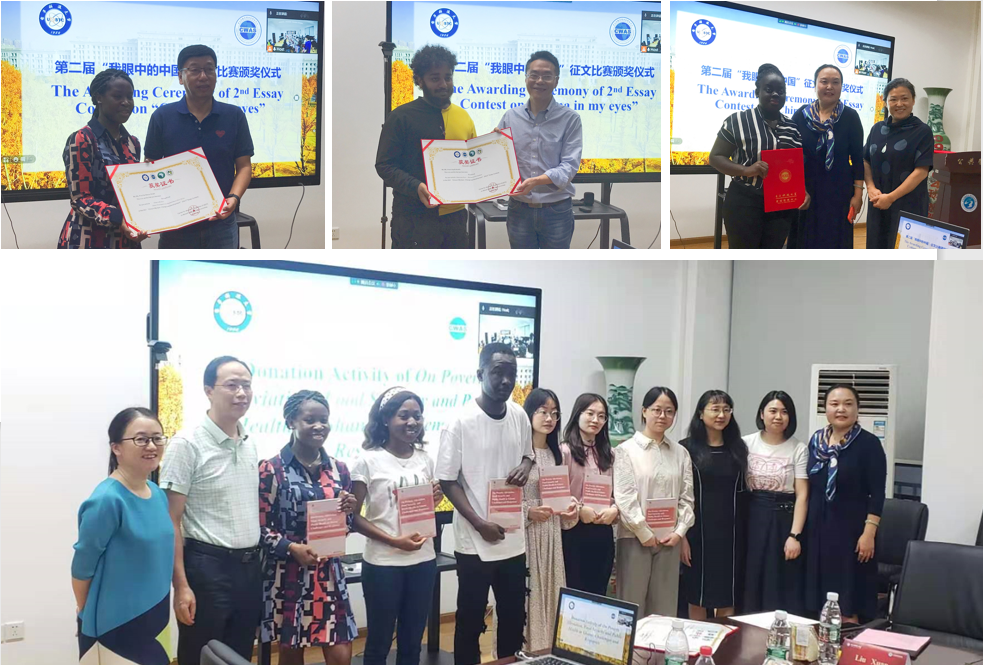 Image from cwas.uestc
On September 17, the Welcome Ceremony of 2021 SPAA International Students & Academic Workshop was held in office 510 of the Multi-use Building in Qingshuihe Campus. The event was hosted by Professor Zhao Shurong, Director of CWAS of UESTC and Head of International Student Program of School of Public Affairs and Administration (SPAA), aiming to welcome the fresh international students both in China and abroad simultaneously via a combination of online and offline forms. Teachers and international students from SPAA, School of Economics and Management, and School of International Education attended this event.

Mr. Li Ye, Vice Dean of School of International Education, said in his speech that he hoped international students coming from afar could grasp the new opportunities, study hard and make further progress in the new environment. And the international students would be well underpinned by the university as well as the school.

Mr. Zheng Yutao, Chairman of Council of SPAA, welcomed the fresh international students to join "the SPAA family" on behalf of all the faculty and students, and then introduced the training program for international students. He told them that "it is better to travel ten thousand miles than to read ten thousand books, and studying abroad is about so much more than improving your own future, and it is about shaping the future of your own countries and of the world we all share".

Prof. Gao Tianpeng, representative of the teachers of SPAA, said in his speech that it was more important to learn to read, think, do research and understand Chinese culture through first-hand experience than just earn a degree.

Ms. Lilian Wanjiru Njaramba (Li Hua), a current international student of the Class 2020, spoke on behalf of the International Student Association of SPAA, and shared with those fresh students how to adapt and study in the new environment with her personal experience. Mr. Ali Vahidov, representative of the Class 2021 from Azerbaijan, expressed his excitement about starting the "Online Learning Journey" and his expectation for UESTC. Dr. Enoch Amoah, a representative of Outstanding Graduates and now a doctoral student of School of Economics and Management, sent the message to the fresh international students of SPAA that the school has a high standard of teaching and research, and he hoped the international students would keep humble and build good relationships with their teacher and peers. Enoch Amoah expressed his gratitude to the teachers of SPAA at the end.

After that, Mr. Zheng Yutao and Mr. Li Ye presented the certificates to the six international students who had excellent performance in the "China in My Eyes" (the 2nd Essay Contest) via online and offline forms. The Second Prize winner Priscilla Owusu-Ansah's article was published in China and Africa. And then, those representatives of teachers presented the hard copy of the book Public Administration Ⅱ: On Poverty Alleviation, Food Security and Public Health in Ghana: Challenges and Responses to the team members of the Center for West African Studies who participated in the editing and proofreading. This book is one of CWAS Book Series on West African Studies and is published by Social Sciences Academic Press (China).

On the occasion of the Mid-Autumn Festival, teachers and international students shared moon cakes with the UESTC emblem and motto, creating an atmosphere of reunion and warmth. This helped international students feel the charm of the traditional Chinese festival, enhance their understanding and recognition of Chinese culture, and increase their sense of belonging to the university and school.

At the end of the event, Dr. Guo Shuang from Freie Universität Berlin, Germany, was invited to give a lecture on "Social Science Research Methodology" in the Academic Workshop for International Students (No.14). Dr. Guo Shuang mainly introduced the way of thinking, basic framework, core concepts and processes of social science research, which helped international students majoring in public administration and other disciplines to build up the awareness of scientific research, to set up a preliminary understanding of social science research methods, and lay a good foundation for the professional courses of master's degree.