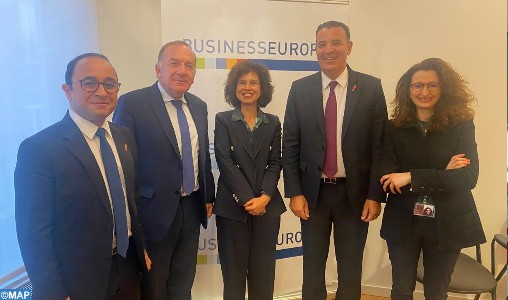 Image from Moroccoworldnews
Chakib Alj, President of the General Confederation of Moroccan Enterprises (CGEM) met with Pierre Gattez, President of Business Europe on September 30, in Brussels to discuss ways to strengthen trade and investment relations between Morocco and the European Union (EU).

In order to strengthen ties between Moroccan and European companies, both sides are seeking ways to develop their agreements, to advance the EU's new trade strategy, and to create new synergies.

CGEM, Business Europe, and EuroCham Morocco have already adopted a joint declaration last week to upgrade the EU-Morocco trade and investment framework.

The upgrade will unlock the untapped economic potential of the EU-Morocco partnership in order to support an effective and sustainable post-pandemic economic recovery.

Through this alliance, the three institutions also call for "a Morocco-EU free trade area," which they consider a "strategic necessity" to foster more integrated and sustainable supply chains, build the digital economy, as well as support small and medium-sized enterprises hit hard by the COVID-19 pandemic.

The CGEM President's visit to Brussels was also marked by meetings with high-level officials of the European Union institutions, including Oliver Varhelyi, European Commissioner for Neighbourhood and Enlargement.

He also held a meeting with Nathalie Loiseau, and Andrey Kovatchev, Members of European Parliament.

The meeting between the parties focused on discussions over how to "breathe new life into Morocco-EU economic relations" by improving the business climate, the promotion of green investment, the facilitation of transport, exchanges of services, and the movement of professionals and goods.

It should be noted that the new EU Strategy for the Southern Neighborhood recognizes Morocco as a special partner since its sustainable development goals and strategic objectives align with the European Green Deal.

The CGEM's role is to promote Moroccan private sector initiatives in order to build bridges between the private and public sectors.

The body is committed to promoting the role of business and social development in society.