In November 2021, "A Fantasy Land " written by UESTC international student Evans Opoku Mensah, a doctoral student at UESTC and also an assistant researcher at the CWAS of UESTC, was published in China & Africa, and this is the second publication of UESTC in the professional magazine.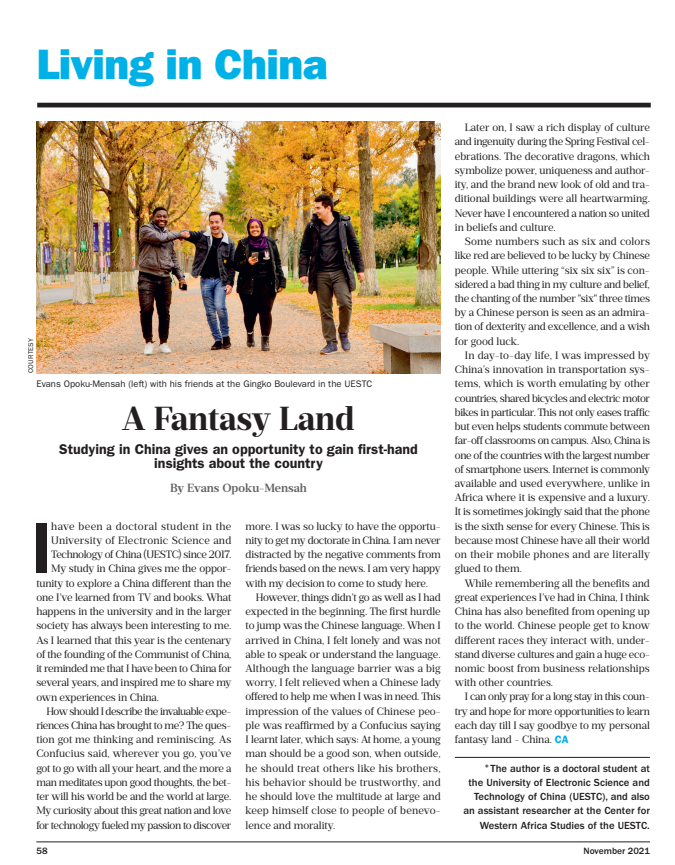 Early at 2018, Evans Opoku Mensah won the Second Prize by the same article"A Fantasy Land" in the "China in My Eyes—China & Africa-China friendship in My Eyes ". The contest was sponsored by UESTC and the Centre for African Studies of Peking University (PKUCAS), co-sponsored by CWAS of UESTC, School of International Education of UESTC and supported by Chinese Society of African Historical Studies.
In"A Fantasy Land", Evans Opoku Mensah describes his first-hand insights about China during his studying in the country. Since he began his doctorate life in 2017, he has been filled with admiration to the fine quality of Chinese people, the extensive and profound Chinese culture as well as the innovation of China's technology. We can see how fast China develops and how deep the relationship between people in China and African people goes in "A Fantasy Land" from the perspective of an international student.
The article was published in the column of "Living in China", China & Africa, in issue 11, November 2021. China and Africa, affiliated to Beijing Review, is the sole monthly foreign-language journal in China that provides in-depth analysis for African readers, and is now available in English and French.
Reference:
Founded in January 1988, China & Africa is the only monthly foreign-language journal in China with in-depth analysis for African readers, available in English and French. Comrade Jiang Zemin wrote the title "China & Africa" for the journal in May 1995. The journal is dedicated to improving communications between China and the African continent and introducing China which has closer relations with African countries to African leaders. China & Africa provides in-depth reports, analyses and comments on hot topics related to China, Africa and China-Africa relations abroad, reports on bilateral investment and trade exchanges, analyzes the development trend of China-Africa economy, introduces China-Africa cultural and people-to-people exchanges, promotes mutual understanding and cooperation between China and African countries, and provides practical information for China-Africa businessmen, as well as organizations and people engaged in tourism and cultural exchanges.
Beijing Review is China's only national English weekly news magazine on current issues. It was founded in March 1958 and proposed by Premier Zhou Enlai. It is a news magazine with the mission of presenting China to the world and spreading the voice of China, objectively reporting the latest developments in China and impartially commenting on major international events. It claims a per-issue distribution "throughout 150 countries and regions worldwide"
Beijing Review has now becoming a multilingual, multi-platform international news media with international influence and credibility. Apart form the monthly journal of China & Africa, it has also encompasses websites in five languages including Chinese, English, German, French and Japanese, and has entered overseas social media such as Twitter, Facebook, YouTube and domestic social media such as Weibo, WeChat, and Toutiao. Moreover, it has also set up branch offices in New York, USA and Johannesburg, South Africa, which are responsible for news coverage, journal operation and public relation promotion in North America and Africa respectively.