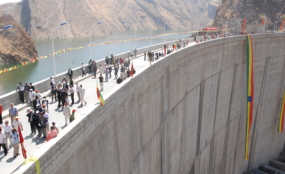 Photo: Addis Fortune Hydropower projects.
Addis Ababa — Ethiopia's parliament on Tuesday approved a 250-million-U.S.-dollar loan agreement made with China's Export-Import (Exim) Bank to finance major infrastructure construction in the country.
Founded in 1994, the Export-Import Bank of China is a state bank solely owned by the Chinese government and under the direct leadership of the State Council. Its international credit ratings are the same as China's sovereign ratings. The Bank is headquartered in Beijing. It has more than 20 business branches inside China, one branch and two representative offices outside China, namely the Paris Branch, the Representative Office for Southern and Eastern Africa , St. Petersburg Representative Office and Representative Office for Western and Northern Africa . It has established correspondent banking relationship with more than 1,000 banks.

The loan agreement, already approved by the Ethiopian House of Peoples' Representatives, the lower house, would finance supply and construction of 400-kv power transmission projects of Genale Dawa III-Yirgalem II-Wolayita Sodo II-Hawassa II in the southern part of Ethiopia.
The agreement, signed in December in China, is composed of two major parts: 195 million dollars for building the transmission line and the remaining about 54 million dollars for undertaking major substation parts of the project.
The Ethiopian Electric Power and China Engineering Corporation Limited have entered into agreement for Genale Dawa III-Yirgalem II-Wolayita Sodo II-Hawassa II back in September 2014, and another supplementary contract agreement a year after the first agreement.
Xinhua