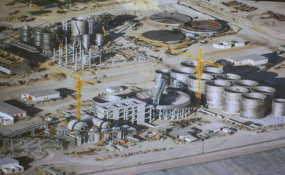 Photo: The Namibian Uranium mining and processing in Namibia.
Windhoek — The Husab Uranium Mine in Namibia, one of China's biggest single investment in Africa, will target production of 15 million pounds of U3O8 per year.
The Husab Mine, also known as the Husab Uranium Project, is a uranium mine under development near the town of Swakopmund in the Erongo region of western-central Namibia. The mine is located approximately 60 kilometres (37 mi) from Walvis Bay. The Husab Mine is expected to be the second largest uranium mine in the world after the McArthur River uranium mine in northern Saskatchewan, Canada and the largest open-pit mine on the African continent. The Husab Mine is to start production in early December 2015 after completion of the sulfuric acid leaching plant.

Beata Muteka, Brand Manager at Swakop Uranium's Husab Mine, told Xinhua that the mine produced the first drum of uranium oxide on Dec 30, 2016.
China General Nuclear Power Company (CGNPC) and other Chinese partners have a 90-percent share in the mine and the Namibian government-owned Epangelo Mining has 10 percent.
"The first production marks the successful operation of all sections of the operating chain, including the mine and all stages of the processing plant," she said.
According to her, the plant will continue to be optimized in 2017, and the throughput will progressively be ramped up towards the target of 15 million pounds of U3O8 per year. Muteka said construction of the processing plant was largely completed in the fourth quarter of 2016, and commissioning commenced immediately afterward.
Meanwhile, Muteka said, CGNPC has remained steadfast in its desire to see Husab become a reality despite difficult short-term uranium market conditions, and curtailment of projects and retrenchments elsewhere.
To date she said capital investment in the project exceeds $2 billion and the company is set to be a significant contributor to the Namibia national revenue through royalties on sales and corporate taxes.