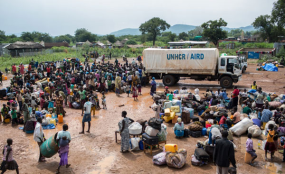 Photo: Daily Monitor (file photo).
Juba — China and South Sudan have agreed to boost cooperation in the health sector by enhancing knowledge sharing, capacity building, and hospital to hospital collaboration.
The deal which was sealed in Juba on Friday will also allow Chinese health specialists to set up experimental operations and management units in the East African nation. The pacts were reached during a meeting between senior South Sudanese government officials and a team of 15 Chinese health experts led by Wang Yuming, Associate Counsel of Health and Family Planning Commission of Anhui Province, east China.
South Sudan's Health Minister RiekGai Kok told Xinhua on Saturday that the cooperation agreements were part of a 33 million U.S. dollar medical assistance pledged by the Chinese government to improve South Sudan's health sector. Kok described relations between the two countries as excellent and beneficial to the people of both countries, adding that his ministry has already received a donation of 600 bicycles and communication gadgets from the Chinese government to support health in the grass root level.
"The relationship between the peoples of South Sudan and China is excellent. The provision of this world-class diagnostic equipment is going to reduce foreign travel for medical attention," Kok said.
"Any time from now, we can receive a team of Chinese medical specialists to come and offer medical services and give mentorship to our doctors. So our friendship with China is really moving upward," he added.
The agreements also seek to modernize the country's main referral hospital, the Juba Teaching Hospital, and renovation of the China-funded Kiir Mayardit Women's Hospital in the South Sudanese town of Rumbek. Apart from offering free medical services in the war-torn country , the Chinese medical team also donated more than 30 types of medicine, diagnostic equipments and a fully-stocked ambulance to the country's main referral hospital.
Zhang Yi, Economic Councillor at the Chinese Embassy in South Sudan said China is committed to helping Juba build an efficient health sector that can enhance bilateral ties between Beijing and Juba.
"We are trying our best to further improve the medical service here in South Sudan, improve the livelihoods of the South Sudanese People and in turn improve the bilateral cooperation and friendship between the two friendly countries, the two peoples and two governments," said Zhang.
Since gaining independence from Sudan in 2011, China has contributed diplomatic and material support to South Sudan.
China is playing an important role not just in South Sudan, but also in the whole African continent. Early seeds of medical cooperation between China and Africa were planted in April 1964, when the Algerian government hosted a delegation from Beijing. As part of the agreements, the Chinese government subsequently sent medical teams to an African country for the first time. "It is because China's assistance over the past 50 years has gained the trust of African countries, that we have laid a solid foundation of friendship," said Wang Liji, former deputy director of the China's National Health and Family Planning Commission.

The medical partnerships between China and Africa that began as aid are today transforming—and commercializing. China's pharmaceutical industry has greatly developed over the past 20 years. The medical market in China now is increasingly saturated and Chinese companies are seeking opportunities to "go out". Moreover, China's middle and low-end medical equipment has relatively good quality that is increasingly able to meet the standard of developed countries. Compared with similar products in Europe and America, China's medical products often have price advantages; their reputation in emerging market is as such gradually gaining strength.

More and more Chinese medical companies of different varieties are entering African medical market. However, Chinese medical companies still have a long way to go before they make a substantial impact. If these firms are able to combine both reliable quality and price advantage, and learn how to adapt to local markets, they could thrive in Kenya and elsewhere on the continent. The future of Chinese healthcare on the continent may very well be driven by business.