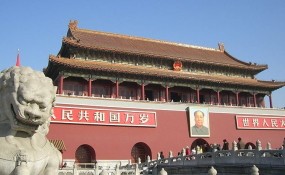 Photo: Wikimedia
Gate of Heavenly Peace in Beijing.
OPINIONBy Zhou Pingjian
"The Export-Import Bank of China has approved $1.275 billion (about N408 billion) loan for the Lagos-Ibadan standard gauge rail line project."-- breaking news widely covered by Nigeria media recently. According to reporting, the Managing Director of Nigerian Railway Corporation Mr. Fidet Okheria said on January 29 that with the approval of the funds by the Chinese Exim bank, all was set for the commencement of the construction of the modern rail line from Lagos to Ibadan.
No surprise to Chinese Foreign Minister Wang Yi, I believe. When he was here in Abuja for an official visit last month, Foreign Minister Wang highlighted the achievements of bilateral cooperation between China and Nigeria with striking statistics.
"Nigeria and China are strategic partners; our relations have been developing well. China has already invested or financed a total number of $22 billion projects here in Nigeria, another $23 billion projects are on-going. In addition, we are also following up another over $40 billion of investments which is in the pipeline," he said.
"Compared with the size, population and market of our two countries, our cooperation still have large potential to be deepened," he added.
Indeed, the purpose of Foreign Minister Wang's visit to Nigeria was to implement the important agreements and cooperation reached between the Chinese and Nigerian presidents and to help work closely with Nigeria to ensure that the outcome of the Forum on China Africa Cooperation (FOCAC) Johannesburg Summit are well implemented here in Nigeria.
What China Exim Bank has agreed this time is to provide $1.275 billion concessionary loan to support the Lagos-Ibadan rail line project as requested by the Nigeria side. The loan is part of the $60 billion funding support Chinese President Xi Jinping announced at the FOCAC Johannesburg Summit in December 2015.
The approval of the loan shortly after Foreign Minister Wang's visit to Nigeria speaks volumes. China is set to open its door even wider to Nigeria and elevate the mutually beneficial bilateral cooperation to a new height.
In the coming five years, China is expected to import $8 trillion of goods, attract $600 billion of foreign investment, make $750 billion of outbound investment, and Chinese tourists will make 700 million overseas visits. All these will create a bigger market, more capital, more products and more business opportunities for other countries including Nigeria. An open door allows both other countries to access the Chinese market and China itself to integrate with the world. China will keep its door wide open and not close it.
As a matter of fact, just as China stands ready to open its door wider to Nigeria and other countries, Nigeria is making real efforts to improve ease of doing business towards diversifying its economy and taking advantage of global opportunities.
On January 20 this year, Nigeria submitted the instrument of acceptance of World Trade Organization's Protocol on Trade Facilitation Agreement (TFA) on the sideline of World Economic Forum in Davos, Switzerland. With this, Nigeria became the 107th WTO member state to ratify the agreement. Giving its position as the largest economy in Africa, the recent step Nigeria took is widely interpreted as a timely big boost to economic globalization.
"Economic globalization was once viewed as the treasure cave found by Ali Baba in The Arabian Nights, but it has now become the Pandora's box in the eyes of many," observed President Xi Jinping in his keynote speech at the opening ceremony of the 2017 World Economic Summit in Davos on January 17, "The international community finds itself in a heated debate on economic globalization."
"The piont I want to make is that many of the problems troubling the world are not caused by economic globalization," he stressed, "It is true that economic globalization has created new problems, but this is no justification to write economic globalization off completely. Rather, we should adapt to and guide economic globalization, cushion its negative impact, and deliver its benefits to all countries and all nations."
China initiated its reform and opening-up policy in late 1978. Since then, China has attracted over $1.7 trillion of foreign direct investment (FDI) and made over $1.2 tEconomicrillion of outbound direct investment (ODI), making huge contribution to global economic development. In the years following the outbreak of international fianancial crisis around 2008, China contributed to over 30% of global growth every year on average. In 2016, China's economy expanded at an annual rate of 6.7% and contributed 33.2% of global growth. The figures speak for themselves. China's development is an opportunity for the world; China has not only benefited from economic globalization but also contributed to it. China's continuous progress in reform and opening-up has lent much momentum to an open world economy.
There was a time when China also had doubts about economic globalization and was not sure whether it should join the World Trade Organization (WTO) or not. But at the end of the day we concluded that integration into the global economy is a historical trend. To grow its economy, China had no choice but to embrace the global market. Therefore, China became a member of WTO in 2001. It has proved to be a right strategic choice.
From 14 to 15 May 2017, China will host in Beijing the Belt and Road Forum for International Cooperation (BRF), which aims to discuss ways to boost cooperation, build cooperation platforms and share cooperation outcomes. The Forum will also explore ways to address problems facing global and regional economy, create fresh energy for pursuing interconnected development and make the Belt and Road Initiative put forward by President Xi Jinping over three years ago deliver greater benefits to the people of all countries.
China successfully hosted the APEC Economic Leaders' Meeting in Beijing in 2014 and the G20 Summit in Hangzhou in 2016. These two events and the BRF follow the same idea, namely, the emphasis on openness, inclusiveness and win-win cooperation, on connectivity and interconnected development and on innovative development to tap potential driving forces and contribute to the well-being of people around the world.
Whether you like it or not, the global economy is the big ocean that you cannot escape from. Any attempt to cut off the flow of capital, technologies, products, industries and people between economies, and channel the waters in the ocean back into isolated lakes and creeks is simply not possible. Indeed, it runs counter to the historical trend.
The process of economic globalization should be more invigorated, more inclusive and more sustainable, however. As President Xi Jinping pointed out at the APEC Economic Leaders' Meeting in late 2016, "We should act pro-actively and manage economic globalization as appropriate so as to release its positive impact and rebalance the process of economic globalization. We should followthe general trend, proceed form our respective national conditions and embark on the right pathway of integrating into economic globalization with the right pace. We should strike a balance between efficiency and equity to ensure that different countries, different social strata and different groups of people all share in the benefits of economic globalization."
China-Nigeria cooperation has been a pace-setter for China-Africa cooperation. In this era of economic globalization, China and Nigeria can progress together even better through win-win cooperation for common development.
During his visit to Nigeria last month, Chinese Foreign Minister Wang Yi and his Nigerian counterpart Foreign Minister Geoffrey Onyeama signed the Joint Statement by The Government of the Federal Republic of Nigeria and The Government of the People's Republic of China, in which the Nigerian Government reaffirms that the one China policy is at the core of its Strategic Partnership with China and the Chinese Government reaffirms its commitment to actively developing China-Nigeria Strategic Partnership across the board.
With remarkably strengthened mutual trust, a solid political foundation has been laid for bilateral cooperation between China and Nigeria. We have an opportunity. Let's take it.
On February 9th, Nigerian newspaper DAILY SUN published an article titled China Opens Door Wider to Nigeria written by Ambassador of China to Nigeria Dr. Zhou Pingjian.