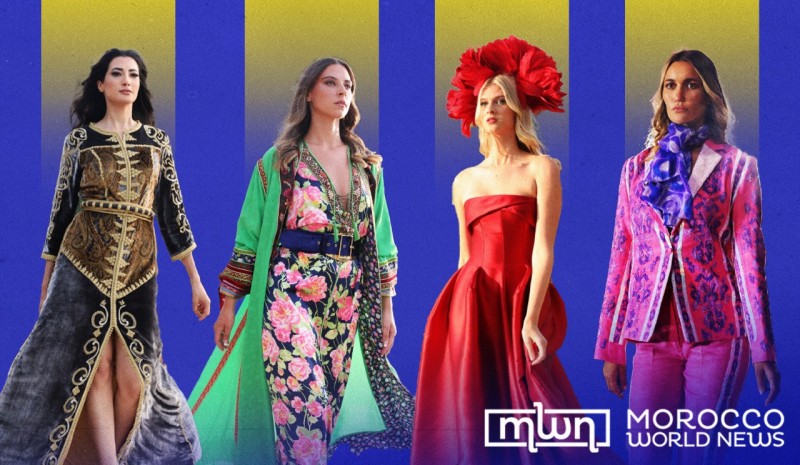 Image from Moroccoworldnews
The Oriental Fashion Show concluded on June 4 with another set of inspiring designs. Saturday night's show would follow a similar pattern to Friday's, with various pieces on display once again. The second night was dedicated to couture fashion, offering a whole new set of designs from the evening before.

Souad Chraibi, the mother of Khadija who showcased "Rena" the previous night, kicked off the evening. Her range, "Renata," consisted once again of vibrant and colorful caftans. Chraibi displayed blue, green and lilac caftans, all fitted with individual designs. Many of the Renata pieces also had off-white colors and had a Spanish influence to them.

Just as he did the night before, Addy van den Krommenacker displayed another one of his collections. Due to the couture theme of the evening, the Dutch designer's pieces were a little more subtle in their color but brilliant nonetheless. The experienced creator offered VIPs and guests a range of various elegant white dresses among others.

Up next was Wafaa Idrissi, a popular Moroccan designer. Known for her non-conformism, Idrissi did not disappoint with an impressive collection of caftans. Most of her designs were laced with golden and vibrant designs, with one of her pieces also possessing a vail. With her range, the charismatic designer reminded guests in attendance of the beauty of Moroccan fashion.

Lebanese designer Gemy Maalouf followed with designs from both her Spring-Summer collection and the upcoming Winter selection. Maloouf's designed varied in vibrant color and many pieces were accompanied with distinctive headwear. The collection also included a magnificent white wedding dress that acted as the range's centerpiece.

For the second night running, Diamant Noir Jewelry presented their impressive collection, created by founders Najah Triki and Massoud Azmayesh. The couple displayed yet another glittering range of diamond necklaces, as well as belts and earrings that were mostly gold in color.

Zeynep Erdogan was next to show off her latest collection. Her spring-summer collection offered many white dresses accompanied with colorful cloth, imbedded with unique designs. Her range also included pink, yellow and red elegant dresses. Speaking to Morocco World News, the Turkish designer said her inspiration was "the ancient world design, Roman and Greek mythology and their cultures."

The Calamain range featured a range of vibrant designs, including jackets suited for both men and women. Each piece consisted of unique and detailed patterns that demonstrated the high skill craftsmanship that goes into such work. The collection was a perfect display of Moroccan culture partnered with modern design and color.

One of the Moroccan designers featured at the Morocco Fashion Week, Salma Lazrak, focused on the art of embroidery. On the event's closing night, the Moroccan displayed a stunning collection of dresses each with a unique color and pattern. Many of her creations also consisted of extravagant -- and hand-made -- headpieces. Lazrak's range showed off Moroccan design and heritage, providing standout pieces on the Marrakech catwalk.

Zahra Lahbabi's range "Zaz" was the next to be enjoyed. The Moroccan designer, who has lived in Spain for the last 13 years, told MWN about the inspirations behind her designs. With Mediterranean influences in mind, Lahbabi showed off a number of outstanding pieces, including some darker dresses and lightly colored caftans.

The evening concluded with Jitka Klett presenting her second collection. Like many other collections before, the Czech designer included incredible headwear in a number of her pieces. Many of the dresses, both long and short, offered unique hand-made patterns. Klett's daughter, Alexandra, showcased one of the more impressive designs of the PURA collection, which was accompanied by detailed hand accessories.