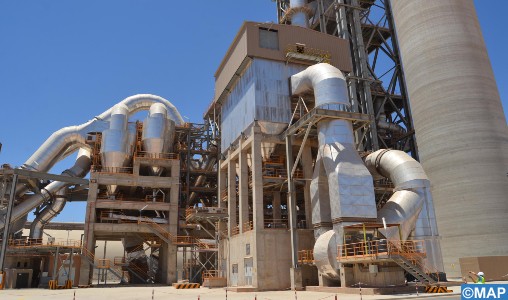 Image from Moroccoworldnews
Holcim, a Swiss-based construction material company, announced earlier this week the opening of its first cement production plant in Agadir in southern Morocco.

Built in 2021, the plant has an annual production capacity set at 1.6 million tonnes of cement, according to data reported by Morocco's Press Agency (MAP).

Holcim invested MAD 3 billion ($299 million) to bring the plant to life, saying the plant would contribute to the development of Morocco's Souss-Massa region.

Labeled the "Plant of tomorrow - the factory of tomorrow," the cement plant is constructed according to Holcim's futuristic model of plants that draw on automation, and artificial intelligence to optimize the production process.

Speaking to the press, the director of the new plant said that the plant is equipped with the latest technology and an automated laboratory.

Regarding its environmental impact, the plant will be powered using wind power starting 2023 and will also use alternative fuels instead of relying on carbon-intensive coal.

The plant created nearly 1,400 temporary jobs during construction, and it has generated 200 direct jobs since its opening.

Aside from creating jobs, the Swiss group has been directly involved in supporting the Souss-Massa region's socio-economic development.

Holcim has built units to facilitate access to drinking water in several neighboring villages by establishing a drinking water network, and constructing three water towers and a pumping system powered by solar panels.

The group also built a new eight km road on a new pavement to bypass the town of Tidsi, close to the production site, and a second three km road to link the factory to the village.

The cement plant also supports education and the fight against school dropouts for children in the neighboring villages, Holcim indicated in a statement, stressing that it has already rehabilitated and equipped four schools that offer education to 700 local children.