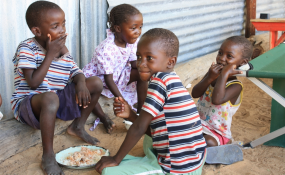 Photo: Jaspreet Kindra/IRIN Children in the Haukongo household share their food.
Windhoek — Namibia is seeking to continue its cooperation with China and the UN Food and Agricultural Organization (FAO) in promoting food security.
FAO country representative Babagana Ahamadu told Xinhua that given the success of the first phase of the tripartite South-South Cooperation (SSC) agreement, Namibia, through the Agricultural ministry and the fisheries ministry have officially applied to FAO for phase II of the SSC.
"By way of feedback I am happy to report that all applications will be considered towards the end of this month and that the outcome will be communicated through diplomatic channels," he told Xinhua.
In 2014 Namibia officially signed the tripartite Agreement in on South-South Cooperation (SSC) and it was formally incepted in April 2015 upon arrival of 15 Chinese experts, who were deployed in four regions to work with their Namibian counterparts in the fields of rice, gardening and husbandry.
During the two-year period, 15 varieties of rice have been introduced to Namibia and three will be selected to plant in the country in the future, 455 farmers and officials received training in various fields and modern agricultural machinery has been introduced and demonstrated in the country.
The project, which will officially end in April, also brought about mutual sharing and exchange of development solutions, including knowledge, experiences, policies, good practices, technology and resources over the two year period it was implemented.
Last week, Namibia bade farewell to the 15 Chinese agriculture experts who were part of the Agreement and the Minister of Agriculture, John Mutorwa, hailed the project and said it had been successfully implemented as it achieved its objectives.
Permanent Secretary of Agriculture Percy Misika said in an interview with Xinhua said that as for future cooperation, discussions are underway for Phase II of the SSC project between the Tripartite parties.
"No specific areas have been decided upon yet as discussions are still in their early stages. It is however anticipated that Phase II will build on the excellent results obtained in Phase 1 particularly in rice production," he said.
Meanwhile, Ahamadu said that, FAO stands ready to support Namibia's efforts and plans aimed at reducing poverty. "SSC today plays a greater role than ever before in the international development cooperation landscape and innovation in the South is generating new tools and partnerships for tackling issues of food insecurity, poverty and sustainable development," he said.