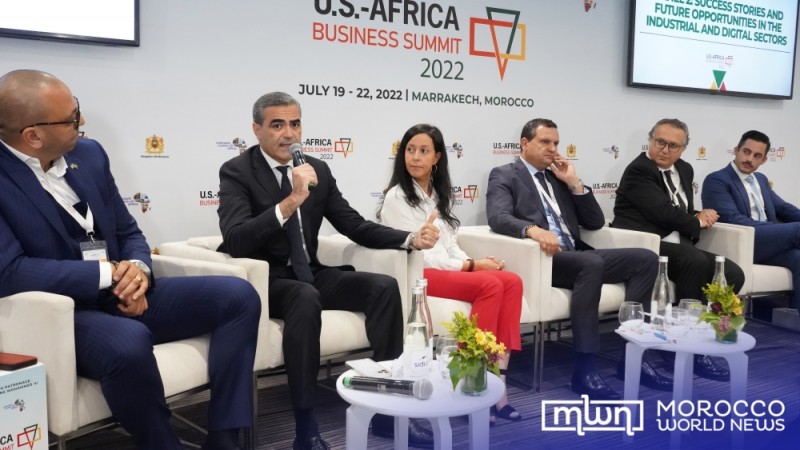 Image from Moroccoworldnews
Speaking at Morocco Now's "Invest in Morocco" event at the 2022 U.S.-Africa Business Summit in Marrakech, several investors and entrepreneurs recounted positive experiences of their investments in the country.

In various fields, including the automotive industry, aerospace technologies, and renewables, investors cited Morocco's young and capable workforce, as well as the country's strategic location as the most significant advantages of investing in the kingdom.

"Morocco Now" hopes that the success stories discussed at the panel also open doors for future, bigger investment opportunities from leaders in the industrial and digital sectors.

Putting stock in renewables
As Morocco is one of the first developing countries to bet on renewables as the future, sustainability is one of four pillars that Morocco Now has carved for itself.

The country's sustainability bet has proved very attractive for investors and entrepreneurs in a wide range of fields.

Reda Hamdoun, Nareva's Executive Director in charge of strategy and international affairs, said the company has future plans to accelerate cooperation with Morocco, praising the country's efficiency in producing low cost green energy and its partnership portfolio.

Nareva is now operating some of Africa's largest wind farms, he asserted, adding that Morocco's location provides potential to work with EU partners more effectively.

Among the firm's future plans is providing energy for water desalination plants such as the one in Dakhla, which can further boost the country's green credentials.

Those credentials also attracted Renault Group to the country, as Mohammed Bachiri, General Director of the group's Moroccan operation put it.

The automobile manufacturer now has a distinct advantage with its massive production plant in Tangier, which can allow it to take advantage of Morocco's green energy to satisfy the EU's requirements, including the carbon tax.

In 2017, the group opened its Tangier plant, one of the biggest in Africa and worldwide, which recently helped make the automotive sector Morocco's biggest export category.

A young, capable workforce
Another advantage Morocco is leveraging to attract investors is a young and educated workforce. A persistent theme during the panel was investors praising the capabilities of the kingdom's workforce.

Joseph Mandour, CEO of FAR Group, said his company chose Morocco for its strategic location, but was pleasantly surprised to find a very capable workforce.

In the face of doubts from his company's board regarding the prevalence of French in the country and the sheer unconventionality of choosing Morocco as a location for a back office, Mandour said the 35-person Moroccan team managed some impressive feats, including turning a company that was losing $200,000 to one that was making more than that in profit every month.

"The human capital is young as the folks from Morocco Now have said," Mandour told Morocco World News. "I believe Morocco has a great youth that is coming up, that is well educated, that is ready to be trained to serve in a variety of different capacities in different industries."

The country's workforce also holds considerable expertise and specialized knowledge in highly technical fields such as aerospace technologies.

Houda Farrahe, Associate Director at EngiMa, said that Moroccan aerospace training centers have trained more than 12,000 highly skilled workers, giving big incentives for firms to invest in the country.

She asserts that Morocco today has adequate human resources and skills to become an active actor and producer in the aerospace sector, rather than just a consumer.

This was driven home by the attendance of Travis Langham, representing aerospace giant Boeing, who expressed future hopes of the company to work more with Morocco, adding that the country can provide huge value added benefits to the firm.

With Moroccan universities focusing more and more on cultivating highly technical knowledge and leveraging the international skills of an increasingly English-speaking Moroccan youth, the merits of the country's workforce look to only be getting more significant with time.