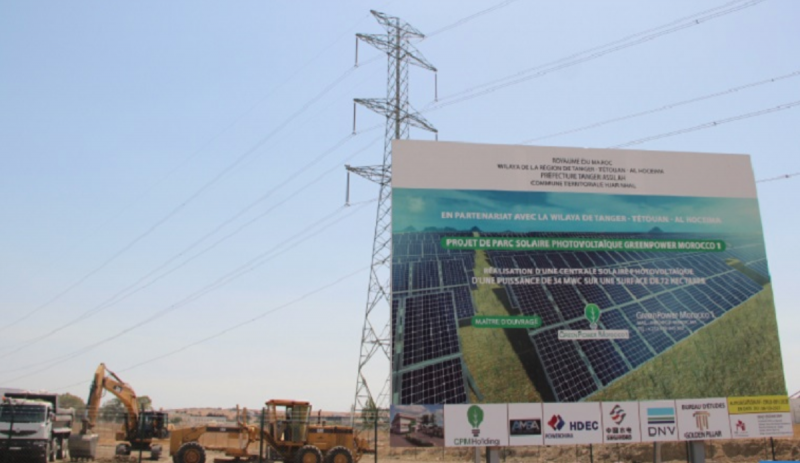 Image from Moroccoworldnews
Construction began on Tuesday for the GPM1 solar power plant, the first photovoltaic solar power plant in the Tangier-Tetouan-Al Hoceima (TTA) region, with several regional officials attending the launching ceremony.

Developed by Green Power Morocco, the power plant will be constructed on an area of 75 hectares in the municipality of Hjar Nahal in the Tangier-Assilah Prefecture. It is set to have an installed capacity of 34 megawatt-peak (MWp), with a projected annual production of 67-gigawatt hours (GWh) and an investment of around MAD 370 million ($36 million).

In addition, the GPM1 solar power plant will include more than 91,000 photovoltaic panels equipped with solar trackers to increase the plant's production capacity.

The project further intends to improve Morocco's electrical energy production capacity from renewable sources and contribute to lowering the country's reliance on fossil fuels.

Speaking at Tuesday's launching ceremony Philip Jenkins, CEO of the Company Green Power Morocco, praised the district's support for the project's inauguration.

Jenkins described Morocco as "the American dream," noting that he was able to complete multiple investment projects during his 18-year stay in the country due to its confidence and favorable business climate.

"This project is the result of joint efforts by various actors at local and central levels, to accelerate the energy and economic transition to a low-carbon model, now imposed and adopted by all international standards," said Jalal Benhayoun, Director General of the Regional Investment Center of the Tangier-Tetouan-Al Hoceima region (CRI-TTA).

He added, "In this context of economic crisis post-pandemic and with soaring energy prices, the use of renewable energy is no longer a luxury but a necessity for our industry, especially exporters."

Also attending the ceremony were the wali of the Tangier-Tetouan Al-Hoceima region, Mohamed Mhidia, and several regional officials and economic actors.