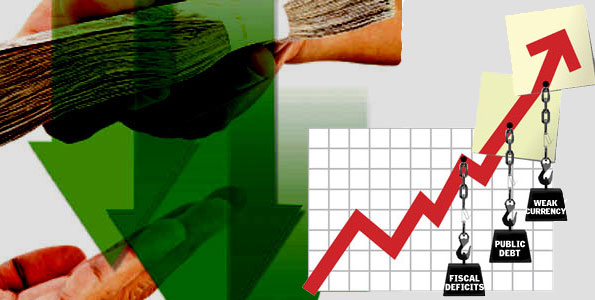 Across East Africa, governments are grappling with widening fiscal deficits, weakening currencies, rising inflation, runaway public debt and tightening of lending to the private sector. TEA GRAPHIC | NATION MEDIA GROUP
By NJIRAINI MUCHIRA
The "below par" performance by East Africa's economies in 2016 is expected to carry over to this year, although prospects remain broadly positive, a recent assessment by Citi Research notes. A crisis of confidence triggered by elections in the past two years has already taken its toll of the big three economies, Citi analysts note.
Tanzania and Uganda held elections in 2015 and 2016 respectively, while Kenya (as well as Rwanda) are expected to do so this year. This, plus other shocks like drought, food inflation and weakening currencies, have seen countries perform way below expectations, a trend that is projected to continue in 2017.
"Overall, there is a sense that the economic party of the past decade is now over; instead there is a pressing need to refocus on medium-term policy issues," said Citi Africa economist, David Cowan.
Chief economist at Mentoria Consulting Ken Gichinga said that major macroeconomic indicators suggest that the economies of Kenya, Uganda and Tanzania will have to navigate strong headwinds in 2017.
Across East Africa, governments are grappling with widening fiscal deficits, weakening currencies, rising inflation, runaway public debt and tightening of lending to the private sector. In Uganda, Citi Research contends that there has been little recovery in confidence since the elections in February 2016 that saw President Yoweri Museveni re-elected for a fifth term.
Business confidence
Business optimism, which stood at around 50 per cent in mid 2015, plunged to 45 per cent after the election and is yet to show signs of recovery. This is attributed to political uncertainty, impending constitutional reforms, uncertain government fiscal policy, rising inflation and banking sector crisis.
This trend is projected to persist this year, particularly because the Ugandan shilling has come under severe pressure in recent years and is not expected to stabilise.
The Uganda currency has depreciated from Ush2,500 to the dollar in mid 2014 to close last year at Ush3,600. Inflation on the other hand is forecast to average 7.1 per cent compared with an average of 4.9 per cent in 2016.
Despite the challenges, Citi predicts that business confidence and the economy will continue to pick up slowly, with real GDP growth forecast to rise from around five per cent in 2016 to 5.5 per cent this year.
The focus, however, is now on Kenya, where elections have the potential of degenerating into violence whose ripple effects could be felt across East Africa.
"While some violence around the August elections seems possible, notably around closely contested county elections, it should not be overplayed and we think it is unlikely that there will be more widespread unrest," said Dr Cowan.
This, however, does not mean the economy will not suffer, with real GDP growth projected to be stuck in the five per cent range. While the Kenya shilling has started the year on a depreciating note, having enjoyed stability in 2016, Citi reckons there is no cause for panic. The shilling closed the year at around Ksh103 to the dollar and is projected to close 2017 at Ksh106.
Trade deficit
Inflation however, threatens to be a major concern, with an annual forecast of 7.1 per cent in 2017, with a year-end rate of 6.3 per cent, which is marginally higher than in the past three years.
Of concern, however, is that the Kenyan government must cut down on wastage and adopt prudent spending and devise ways to increase revenue to narrow the fiscal deficit. Mr Cowan said that the target should be to reduce the deficit to five per cent of GDP in 2017 and aim for 3.7 per cent by the 2018/19 fiscal year in line with International Monetary Fund prescriptions.
In Tanzania, despite the country's economy being the best performing in the region, the shilling has been under pressure in recent years. It fell to a historically mark of Tsh2,400 against the dollar in June 2015, forcing the Bank of Tanzania to intervene. The shilling closed 2016 at Tsh2,126, and is forecast to close at Tsh2,299 to the greenback.
Inflation, on the other hand has remained stable averaging 4.5 per cent last year. In 2017, it could surge to around 7.5 per cent due to rising food prices. In Rwanda, the franc has also been in a freefall against the dollar dropping to a low of Rwf770 in mid 2015 and closing 2016 at Rwf805.
The Rwanda currency is projected to remain in the range of Rwf800 to the dollar in 2017. Inflation, however, which averaged 4.5 per cent in 2016, is expected to remain stable at 4.7 per cent in 2017.
The Burundian economy on its part has been in turmoil since the country was plunged into a political crisis after the 2015 elections. Inflation has been on the rise from an average of 5.5 per cent in 2015 to close 2016 at 7.1 per cent.