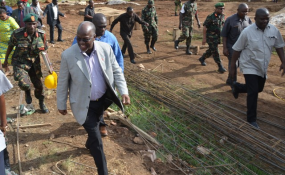 Photo: State House/Daily News President John Magufuli inspects the site of the proposed construction of Kabyaile Health Centre in Misenyi District, Kagera Region.
Tanzania has featured prominently in this year's Bill and Melinda Gates annual letter celebrating progress in global health and poverty reduction. The letter is addressed to couple by mutual friend Warren Buffet, who a few months ago asked Melinda and Bill to reflect on the impact his gift has had in the world.
Buffett, an American investor, business magnate, and philanthropist in 2006 donated the bulk of his fortune of $30 billion, to the Bill and Melinda Gates Foundation to fight disease and reduce inequity.
In their current letter the Gates noted that since 2006 the foundation had seen incredible stories of progress and hope in Tanzania which, relative to the rest of Sub-Saharan Africa, has a low neonatal mortality rate.
"Over the years, the Bill and Melinda Gates Foundation has partnered with donors, governments, the private sector and civil society to help Tanzanians live healthy and productive lives," the letter reads, in part.
The Gates say Tanzania has achieved vaccination rates of 96 per cent or above in five crucial vaccinations, according to reports from the Unicef. Globally, the annual letter released yesterday says the fastest progress -- the world has ever witnessed -- has been recorded in global health and poverty reduction.
"Buffet donation meant that the foundation and its partners were able to invest in new technologies, solutions, and research that could save lives, help families, and reduce extreme poverty levels," the letter further says.
Citing an example, the Gates noted that the lives of 122 million children around the world have been saved since 1990, 86% of children worldwide receive basic vaccines, and for the first time in history more than 300 million women are using modern contraceptives.
Across the African continent, Bill and Melinda note key improvements in the following areas of development: Mortality in children under the age of five, caused by pneumonia, diarrhoea, and malaria, has decreased by 54% across SSA.
There is also increased access to information about reproductive health and innovative contraceptive methods, which means more women have the power to make their own family planning decisions.
"... 27% of women now use contraception in sub-Saharan Africa, according to Unicef; meanwhile, extreme poverty in sub-Saharan Africa has decreased by 28% since 1990," the letter adds.