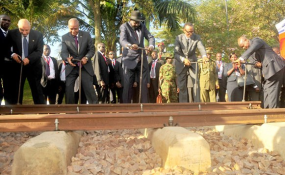 Photo: Daily Monitor /South Sudan president Salva Kiir (3rd left), Rwanda's Paul Kagame (2nd right) and President Museveni (right) and other officials launch the SGR project in Kampala.
By Nelson Wesonga
The companies 'selected' to produce steel for the Standard Gauge Railway (SGR) need $7.2 million (Shs25.5 billion) to tailor their products to Chinese requirements.
The government's ambitious Standard Gauge Railway (SGR) project, officials say, will employ about 16,000 people [Ugandans] during the actual construction phase scheduled to commence later this year after land for the proposed right of way has been fully acquired and funding has been secured from China's Exim Bank. It is a sticky subject which in Uganda was first coined within the confines of the nascent oil industry but has since been stretched to every big infrastructural project funded with borrowed money or undertaken by foreign contractors. In short, it refers to what it is that Ugandans benefit from the project during its construction.
They will spend the money on inputs such as billets used in the manufacture of steel rods and bars and on machines to size their products according to specifications.
"Discussions with Roofings, Madhvani, Steel & Tube and Steel Rolling Mills are ongoing... " says a 2016 Works and Transport ministry document.
"The manufacturers have indicated that approximately USD7.2 million will be needed to upgrade their capacities." At this stage, it is not clear who will pick the tab and how soon the four major steel manufacturers will put in place the machinery required.
It is also not yet clear when work on the SGR will begin; the new State minister for Works, General Katumba Wamala last week noted that the project has taken long to kick off. Kenya is scheduled to complete the construction of its SGR in June 2017, two months ahead of its General Election.
Just like Kenya, Uganda is banking on the SGR to lower costs of transport of both imports and exports, which could shave some shillings off the cost of their products - making them competitive.
When contacted for comment on Sunday, February 19, Dr Martin Francis Kyeyune, the Finance and Economic Adviser Roofings Group, confirmed the government is engaging them. Dr Kyeyune added, "Though it is engaging us, let us not be under any illusion that there is no quality [steel] product in Uganda.
"We produce according to the Uganda National Bureau of Standards, which are benchmarked on British standards." Dr Kyeyune added there are specifications and, therefore, modifications that might have to be made to suit the environment.
Since the SGR railway will pass through swamps, too, it will dictate the use of corrosion-proof material. In such cases, the steel manufacturers will have to ensure the iron is well coated with zinc.