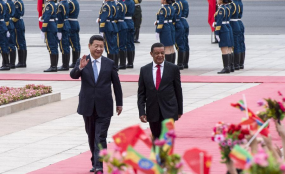 Photo: Wang Ye
Chinese PresidentXi Jinping holds a welcoming ceremony for Ethiopian President Mulatu Teshome before their talks in Beijing.
By Tewodros Kassa
The feasible business policies and ever growing competitive labor force of Ethiopia are attracting Chinese to invest here, Chinese Ambassador to Ethiopia La Yifan told The Ethiopian Herald.
The Ethio -China business and trade relations is currently flourishing and for the furtherance of the relations investors from both countries pledged to utilize the existing opportunities for mutual benefit.
As the nation is fast tracking in economic development, Chinese Foreign Direct Investment is flowing with increased volume, he added. "China attaches greater attention to ways of continuing and improving the friendly investment climate already created."
He also expressed conviction that the two sides relations which gained momentum over the last 20 years would further be strengthened.
Ethio-Chinese formal relations had been traceable in the 1970s. Their relations have now grown and covered areas including government-to-government, people-to-people and party-to-party, the ambassador noted.
Ethiopia's focus on infrastructure has created numerous opportunities for Chinese construction firms. Ethiopia is also a significant market for Chinese exports that will expand as Ethiopia's rapid economic growth continues. For Ethiopia, Chinese finance provides critical support for the government's legitimacy, as electricity, transport, and employment opportunities continue to expand, stimulating economic growth and helping promote exports to other countries.
The Ethiopian government has encouraged imports, purchasing Chinese equipment and supplying it to local construction and manufacturing firms on a lease-to-buy basis. Trade continues to grow rapidly. By 2015 bilateral trade had grown to $3.8 billion, with Ethiopian exports encouraged through special quota and tariff arrangements on many goods.