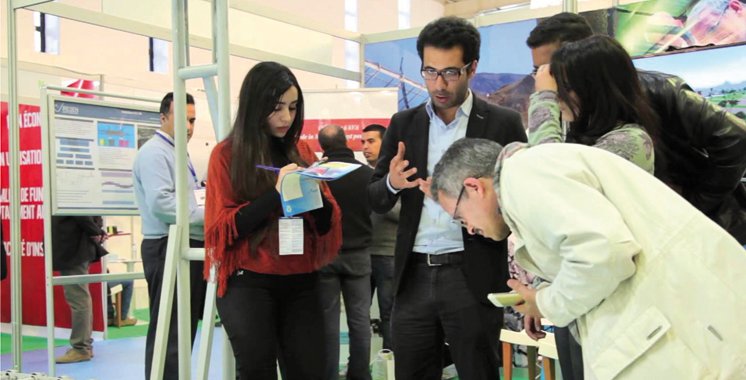 A platform for exchanges and an opportunity to get information, that Solaire Morcco lanunches its 6th edition from 21 to 23 February in Casablanca.
For this year, Solaire Expo Maroc welcomes more than 75 exhibitors and 5,400 visitors from all over the world.
Solaire Morocco launches its 6th edition in a spirit of creativity combined with the desire for innovation. It offers an appointment to Develop the market internationally, particularly in Morocco and in Africa; Converge all the business appointment on the same venue; Propose the products to targeted professional visitors; Benefit from an all-out communication campaign of national and international media due to an extensive media scheme.
Since its creation, Solaire Expo Morocco aimed at being a platform of exchange enabling different actors of the field to take stock of the state of the market related to solar energy and energy efficiency in Morocco and abroad, by means of thematic spaces, roundtables and conferences; animated by renowned local and foreign experts. Solaire Expo Morocco is also agreeable moments of exchange and a warmhearted atmosphere enabling exhibitors to share their experiences and to construct relations and ties around a business lunch, within a relaxed ambience.
Ⅱ. Conference Objectives:
◆ Outline the potential and the business opportunities in the field of solar energy and energy efficiency in Morocco and Africa
◆ Learn about the developments and technological innovations
◆ Network with industry professionals and share successful experiences
◆ Make contacts and business partnerships
Ⅲ. Why Exhibit:
★ Presence of decision makers that enables you to optimize your prospecting and quest of new clients
★ A bridge to possible commercial perspectives in Moroccan and African markets
★ An opportunity of offering you know-how, expertise, products and services
★ Business to business meetings and a unique opportunity to develop your partners network
★ A possibility to valorize your expertise by means of rich and diverse scientific programme
★ A unique occasion to strengthen your branding and reputation in Moroccan an African markets
The exhibition will promote the development of new energy in Africa>