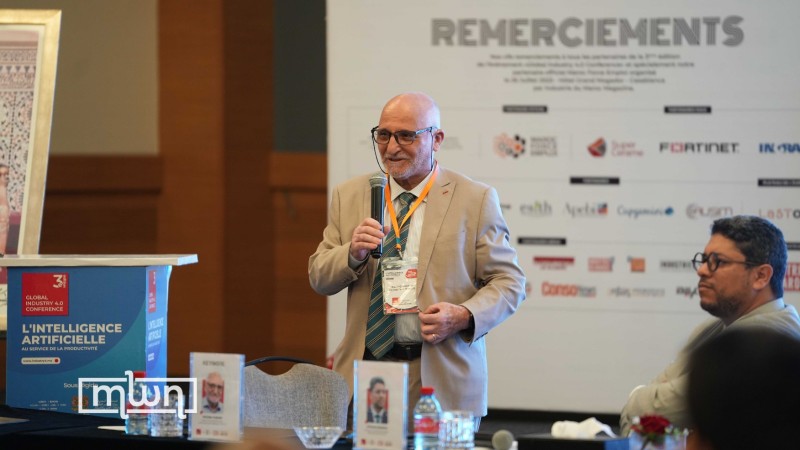 Image from Moroccoworldnews
Moroccan scientist and inventor Rachid Yazami took center stage at the third edition of the Global Industry 4.0 Conference, hosted on Wednesday by the magazine "Industrie du Maroc", where he shared an inspiring vision of the country's readiness to embrace electric vehicles (EVs) in the near future.
Yazami spoke to Morocco World News on the sidelines of the event, drawing attention to the flourishing global market for electric vehicles and underlining the significance of preparing Morocco for the transformative EV industry by 2030 and 2035.
With major automotive companies like Renault and PSA Group having their sights set on EV projects in the North African country, Yazami stressed that "Morocco has to be ready for the 2030 - 2035, so that we can produce batteries that are adapted to large markets."
He particularly stressed the need to develop batteries tailored to the markets' unique environmental conditions, where temperatures can soar to more than 50 degrees Celsius.
Acknowledging 50 degrees Celsius as the threshold for battery safety, Yazami emphasized the urgency of addressing safety concerns and devising methods to maintain battery integrity at higher temperatures.
In this respect, the Moroccan scientist revealed an ongoing project aimed at enhancing the stability of lithium-ion batteries, allowing them to function reliably even in scorching heat.
"I'm currently working on a project to increase the stability of lithium batteries up to 90 degrees Celsius … and this is another big technological and scientific challenge," he stressed.
This project holds the potential to set a new industry standard for battery safety and performance, providing the backbone for Morocco's EV ambitions.
Charging ahead
In addition to safety, charging time is another critical focus area for Yazami and his team.
"Today there is no technology that enables to charge a battery from zero to 100% in less than one hour," he noted. However, Yazami unveiled a revolutionary method that he and his team have developed to cut charging time from hours to just 10 minutes.
"This is a revolutionary method that we have tested on a large variety of batteries and especially batteries for electric cars, scooters, and cordless power tools," he explained, noting that the method "works very well."
Celebrating the astonishing breakthrough, Yazami said with enthusiasm: "We are cutting the charging time by a factor of two, three, or four, depending on the batteries."
Shorter charging times not only bolster the convenience of electric vehicles but also hold immense potential for other applications, including portable devices and industrial equipment.
As he concluded his remarks, Yazami reflected on the next decade, emphasizing his dedication to developing these cutting-edge technologies to shape the future of lithium-ion batteries.
"I think for the next ten years I will be very busy developing these technologies to adapt to the worldwide market and especially the Moroccan market," he stressed, expressing his enthusiasm for the forthcoming transformative impact.
The third edition of the Global Industry 4.0 Conferences served as a platform for experts and researchers to explore the profound effects of artificial intelligence (AI) on society and industrial applications.
Yazami's contributions focused on the intersection of AI and lithium-ion batteries, delving into the challenges and innovations that lie ahead.
"We are thrilled to host the important event, providing a platform for dialogue and knowledge-sharing on AI's potential and its implications for the future of our nation," said Karim Chakir, CEO of Industrie du Maroc Magazine.