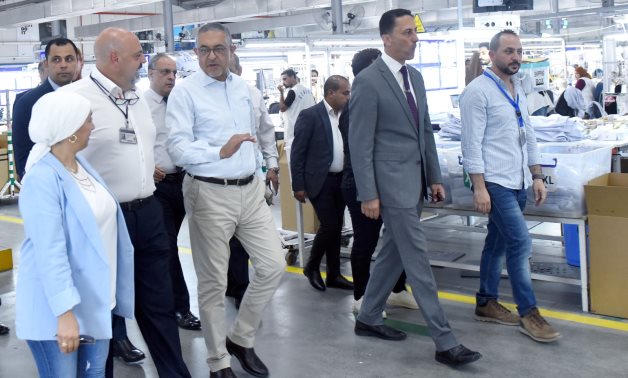 Image from Egypttoday
Chairman of the General Authority for Investment and Free Zones (GAFI) Hossam Heiba visited earlier this week the in-progress expansion works of the Ismailiyah Free Zone as utilities are being introduced in 50 feddans (one feddan equals 4,500 meters).
Heiba also checked on the extensions being set up by investors in the zone, announcing that talks are underway with Ismailiyah's municipal authority to introduce utilities in another 137 feddans turning the area into industrial parks.
General Manager of Jade, top exporter of ready-to-wear garments, Farhan Efram stated that the company would finish expanding into 20 feddans in January to add 2,500 jobs to the existing 8,500 ones.
Further, the one-year-old JAE – operating in the same sector – declared building extensions on 15 feddans. In spite of its recent foundation, the company is running 13 production lines with Chinese investments, and exporting to the United States and a number of European countries. The factory will also rely on more Egypt-made fabrics than imported ones in the coming period.
Chairman of Spectrum for Diagnostic Industries Khaled Raafat Alian suggested establishing a small business park for enterprises specialized in diagnostic industries, and that would, particularly, offer small units for young investors.
In his meeting with investors at the zone, the GAFI chairman commended the firms' care to technology transfer, deepening of the industrial process, carrying out more stages in Egypt, and not just increasing the quantity produced.
Heiba highlighted that the electronic foundation of enterprises would be launched in a few days, and that more Golden Licenses, which are unified licenses, would be issued soon.