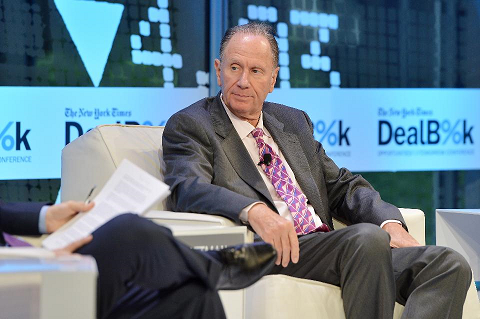 Photo by Larry Busacca
By Mfonobong Nsehe, forbes.com
Carlyle Group and TPG Capital, two America's largest private euity firms are looking to acquire Kenyan coffee chain Java House, a deal could be worth as much as $100 million.
According to a report by Kenyan newspaper Business Daily, the two giant PE firms are among a group of institutional investors who are making a bid to purchase the coffee chain from its current owners, Emerging capital Partners (ECP).
In 2012, Emerging Capital Partners, a leading Pan-African private equity firm, acquired a controlling stake in Java House for an undisclosed sum from its American founders, Kevin Ashley and John Wagner. ECP currently owns an estimated 90% stake in the company.
NEW YORK, NY - NOVEMBER 12: Founding partner at TPG Capital David Bonderman participates in a discussion at the New York Times 2013 DealBook Conference in New York at the New York Times Building on November 12, 2013 in New York City. (Photo by Larry Busacca/Getty Images for The New York Times)
During the 2012 transaction, ECP announced in a statement that the bulk of the funds it used to acquire the controlling interest in the coffee chain went into funding Java's growth, and not into its founders' pockets. This means that the founders stand to cash out significantly this time around.
Java House, which was founded in 1999 by American entrepreneurs Kevin Ashley and John Wagner, is East Africa's largest coffee chain. It operates close to 50 outlets in Kenya and Uganda and has more than 1,000 employees. The chain is famous for serving a variety of Kenyan coffees and teas, home baked bread and Mexican cuisine.
In 2015, Kevin Ashley told Business Daily that Java's annual revenue was $30 million.
TPG declined to comment, while a representative for Carlyle Group did not respond to a request for comment as at the time of filing this report.