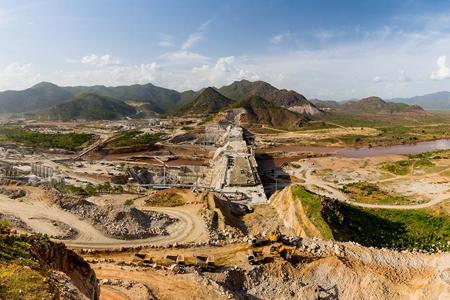 The government says citizens abroad contributed over 2,101,000 USD over the past six months through bond purchases, donation, and other funding mechanisms, to back the construction of the Grand Ethiopian Renaissance Dam (GERD).
The Grand Ethiopian Renaissance Dam (GERD) possesses an invaluable and multi-faceted values and benefits to the peoples of Ethiopia. We may categorize those values and benefits in economic, social and political terms. The economic values are magnanimous. GERD can generate immense amount of hydro-power that can be sold here at home to each villages, towns and cities and abroad to different countries and hence can generate billions of dollars in hard currency and in Birr. This can be used in building infrastructures that help develop our nation and improve the lives and livelihoods of our people.
In a press briefing Friday, Ministry Spokesperson Tewolde Mulgeta said the contribution was made during the last six months in the form of bond purchases, donation and other funding mechanisms.
Tewolde added that the ministry met 199 times over the last six months with the diaspora community through various forums. Following this, the Diaspora made active participation in the fund raising and other programs including ICT, health and educational support, according to the Spokesperson.
For its part, the ministry has made supports to 8,400 people in providing legal protection, investment tips as well as settling salary cases, Tewolde noted.
Reports indicate that Ethiopia has over three million diaspora in different parts of the globe, it was learnt.
The project is located approximately 500 km north west of the capital Addis Ababa, in the region of Benishangul - Gumaz along the Blue Nile. At the end of the works, the Grand Ethiopian Renaissance Dam will be the largest dam in Africa: 1,800 m long, 155 m high and with a total volume of 74,000 million m³.
The project involves the construction of a main dam in Roller Compacted Concrete (RCC), with 2 power stations installed at the foot of the dam. The power stations are positioned on the right and left banks of the river and comprise 16 Francis turbines with a total installed power of 6,000 MW and estimated production of 15,000 GWh per year. The project is completed by a 15,000 m3/s capacity concrete spillway and a rockfill saddle dam 5 km long and 50 m high, both located on the left bank.