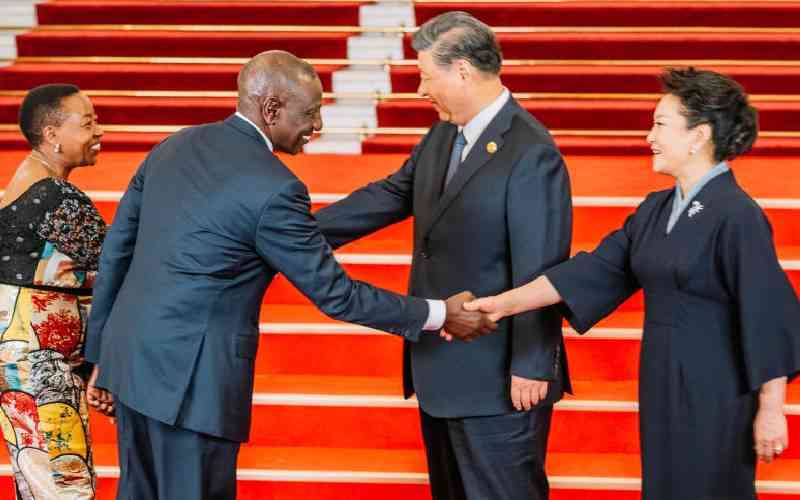 Image from Standardmedia
Kenya remains determined to secure a deal with China for the completion of the Standard Gauge Railway (SGR) to Malaba, the government has maintained.
Kenya's announcement comes days after high-level discussions between President William Ruto and China President Xi Jinping in Beijing failed to bear such a deal or an extension agreement.

Transport Cabinet Secretary Kipchumba Murkomen, however, says Kenya will maintain its ongoing engagement with Beijing to secure support for the expansion of the SGR, starting from Naivasha and extending to Malaba, with the ultimate goal of reaching Kampala.

He spoke soon after returning from the Belt and Road Initiative (BRI) forum held in Beijing recently.
"I thank the Chinese government for always working with us to implement our infrastructural projects, and look forward to closer partnerships on roads, rail, ports and airports through public-private partnerships and government-to-government agreements," Murkomen said.
"I also appreciate the willingness of the Chinese government to work with us to find the most appropriate framework for extending the SGR from Naivasha to Malaba, and thereafter to Kampala and beyond."
Kenya and China signed several pacts from the recent forum attended by President William Ruto, said State House in a statement. Kenya reckons that extending the railway to Malaba will help traders move cargo seamlessly by rail from Mombasa port to landlocked countries.
Uganda adopted a wait-and-see approach when Kenya built the SGR line from Mombasa to Naivasha at a cost of about Sh327 billion. Kenya recently rehabilitated the Metre Gauge Railway (MGR) line from Naivasha to Malaba border to enhance transport along the corridor.

The Mombasa port serves Uganda, Rwanda, the Democratic Republic of Congo (DRC), South Sudan and Burundi as well as northern Tanzania. Prior to President Ruto's visit, Deputy President Rigathi Gachagua and Murkomen earlier said Kenya would seek the extension of the SGR to Malaba, on the Uganda border.
The visit would also have seen President Ruto negotiate a $1 billion (Sh157 billion) mega deal and seek concessions from Beijing to restructure Kenya's debt owed to China.
No word on the SGR or debt restructuring deal that Kenya was pushing for was mentioned by Nairobi or Beijing, until now, after talks between China's Xi and Dr Ruto.
Road network
At the forum that ended on Wednesday last week, $97.2 billion (Sh14.5 trillion) worth of cooperation projects were signed between Beijing and various countries.
"It is important to note that BRI investments in Kenya include an expanded and improved road network, the standard-gauge railway (SGR), and air and sea port projects. These projects have
transformed connectivity within our country by making greater productivity and efficiency possible," said Ruto during the BRI forum.
"They have also transformed Kenya's connectivity regionally, facilitating cross-border trade and regional integration."
Ruto's maiden visit to Beijing was keenly watched by diplomatic observers. The visit marked Dr Ruto's U-turn on his earlier rhetoric against Chinese loans.
During the Beijing forum, Xi lauded his grand BRI plan of building global infrastructure and energy networks connecting Asia with Africa and Europe.