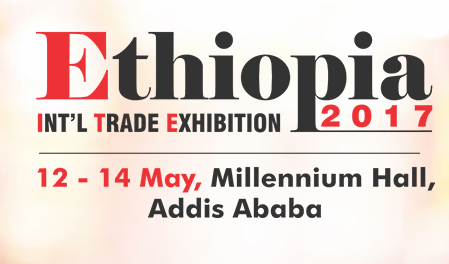 After dominating the trade show industry in Kenya and Tanzania for the past two decades, EXPOGROUP expands its footprint in Africa with the launch of Ethiopia International Trade Exhibition (EITE), to be held at The Millennium Hall, Addis Ababa, Ethiopia from 12 - 14 May, 2017.
EITE is a multi sector trade show that showcases the latest products and services in the consumer market ranging from home decor and electronics to textiles and FMCG products and everything in between. The event is set to be a one stop shop to source and display commodities, meet with industry partners and customers and examine recent market trends and opportunities.
Ethiopia was Africa's fastest growing economy in 2015 and having the continent's second largest population, there is a huge demand from the rising middle class for consumer goods. Being a strictly B2B trade show, EITE is guaranteed to offer return on investments for exporters and manufacturers looking for new business contacts in the last big untapped market on the continent, Ethiopia.
EXHIBITOR CATEGORIES
•
Building Material
•
Machinery & Equipment
•
Mining
•
Steel & Aluminium
•
Lighting
•
Glass
•
Doors & Windows
•
Hardware & Tools
•
Woodworking
•
Paints & Coatings
•
Water / Waste
•
Air Conditioning
•
Bathroom & Kitchen
•
Swimming Pools
•
Safety & Security
•
Architectural Finishing Products
•
Construction Vehicles & Equipment
•
& much more
VISITOR PROFILE
•
Architects, Consultants & Engineers
•
Airport Sector.
•
Aluminium Industry (Including Equipment, Technology, Foundry & suppliers)
•
Building Materials Industry
•
Contractors
•
Construction Equipments & Machinery manufacturers, trade and service-providers
•
Cement Manufacturers, Distributors, Importers & Exporters
•
Ceramic & Tile Manufacturers, Distributors, Importers & Exporters
•
Electricals, Power Transmission & Cables
•
Wholesalers & Retailers
•
WEscalators & Elevators
•
Facades & Roofing Solutions
•
Fire-fighting & safety equipment
•
Government Building Administrations
•
Government Agencies
•
Green Building Concepts
•
Heating & Air-conditioning Systems
•
Heavy Construction & Civil Engineering
•
Interior Designers
•
Instrumentation & Automation Systems
•
Light Fixture & Fittings
•
Miners & Contractors
•
Property developers
•
Steel Manufacturers, Distributors, Importers & Exporters
•
Turnkey contractors