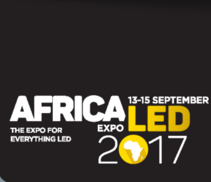 Africa LED Expo 2017
The lighting industry is experiencing a revolution equivalent if not bigger than the change from gas to electric lighting' – Greg Marcia, Former President of Illumination Engineering Society of South Africa (IESSA).
He may not have been the first to say this, but he certainly isn't the only one. LED lighting is driving the most significant transformation in lighting technology since Edison introduced a commercially practical light bulb over 130 years ago.
This was further confirmed when three Japanese scientists, Isamu Akasaki, Hiroshi Amano, and Shuji Nakamura, who invented the first efficient blue LEDs in the mid 1990s received the 2014 Nobel Prize in Physics in November. Their invention of a blue light emitting diode, or LED, was a milestone that now serves in white-light bulbs, computer and cell phone displays, billboards and hundreds of other applications. The uses are growing and the invention has dramatically changed the landscape of the lighting industry, ultimately creating valuable investment opportunities in less obvious areas.
According to industry watcher IHS Technology, since the invention of the blue-light LED, the market has grown to more than 90% of all displays sold and "will account for 32% of all bulb revenues in 2014." By some estimates, LEDs could occupy as much as 80% of the lighting market by 2020.
When improving lighting energy performance LED sources have become the number one efficiency recommendation. LED lighting has been high on the wider energy efficiency agenda for several years, but right now no other technology change offers the same level of power reduction, whilst maintaining or improving on operational performance.
The new year lighting spectacle in New York's Times Square which highlighted the advances made with LED lighting in recent years with ever brighter and more energy efficient bulbs.